For weeks, the Washington Nationals have dealt with the questions. How would the playoffs be different? How would their young team handle the increased pressure and the larger stage? Would they be able to remain the same 98-win team?
But as they swarmed the field at Nationals Park early Tuesday afternoon, laughing and relaxed during a workout before Wednesday's National League Division Series Game 3, they knew they had reduced all of that hype to something very familiar: a three-game series.
And they have won plenty of those before.
"We start a race to two here," first baseman Adam LaRoche said. "It's nice to be able to do that at home, for sure. We know what it's going to take.
"We're going to try and keep it to one game at a time, try not to look too far ahead, but we've got a big one [Wednesday]. If you don't get it done, you're in a bad spot. We know how important that is."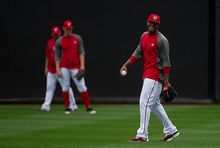 The Nationals were 16-5-5 in series at home this season, and won 32 of the 52 series they played all year. In three-game series alone, they won 11 of the 16 they played at Nationals Park.
"They don't call it home-field advantage for nothing," third baseman Ryan Zimmerman said. "We feel very comfortable playing at home. We've been a good home team and we've put ourselves in a good position to come home and just win a series. If we can do that, like we've done a lot of times this year, we'll be sitting pretty."
The Nationals spoke Tuesday of feeling confident with Edwin Jackson set to take the mound for them. Jackson, after all, is the most veteran member of their rotation and the only starter with postseason experience. He was 10-11 this season with a 4.03 ERA.
"It's just a matter of everybody going out and relaxing and doing their part," Jackson said. "No one has to be a hero. You just have to go out and play the game the right way and play baseball like we know how to play.
"At the end of the day, once you touch the field, you have to be the best pitcher that day. Whether it's your ace or whether it's your No. 4 starter, once you hit the field, everyone is trying to be a No. 1 starter."
But there were discouraging stats, too. The Nationals were just 12-19 in Jackson's starts this season, and the 11 times he took the mound on the day after a Nationals' loss, they were just 2-9. They need Wednesday to be more like the two games he won, and less like the nine losses.
"He's such a consistent workhorse that there's going to be days like that," catcher Kurt Suzuki said. "But he's going to give you 110 percent no matter what. … He knows what he has to do, and I've got 100 percent confidence that he'll be ready."
The way they bounded around the field Tuesday, taking in the crisp but slightly warmer D.C. air and envisioning a stadium filled with red-towel-waving fans, the Nationals seemed to be, too.
"Just a great attitude at the workout today," manager Davey Johnson said. "Everybody's nice and relaxed and enjoying being home. We don't have to prove anything. We proved we're a damn good ballclub. Came out of the season with the best record in baseball, won our division. We played well on the road, and we played exceptionally well here at home. I like where we're at, and I like the attitude of the ballclub right now."