Stephen Strasburg knows these playoffs are different for him. He knows that his face shows up during the telecasts of the Washington Nationals' games and that his absence, one of baseball's biggest storylines, is a part of the Nationals' story, regardless of how the end is written.
He's a playoff bystander since the Nationals shut him down Sept. 8, after they determined he'd hit his workload limit for the season. That day, Strasburg acknowledged he didn't think it was something he was "ever going to accept, to be honest with you. It's something that I'm not happy about at all."
But as the days have passed, Strasburg has resigned himself to his role this season. His eyes are now turned toward the future.
"I don't think [watching the playoffs] is painful in any sense," he said Tuesday. "It's hard being in the dugout, but at the same time it's exciting and the atmosphere's great.
"I just can't wait for my opportunity."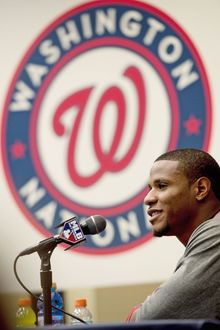 That was a sentiment the Nationals' right-hander repeated on three different occasions over the course of a conversation lasting less than three minutes.
Cardinals right-hander Adam Wainwright, who missed all of St. Louis' World Series run in 2011 as he rehabbed from Tommy John surgery, spoke Saturday of the challenge he faced in trying to feel like he was a part of that team.
"During the time, I felt like I was a huge impact to that team," Wainwright said. "I'm not sure I did anything, but I tricked myself into believing I was pretty important last year. I felt like I was there for anybody who needed me, at whatever level that was. Nothing else to do, right?"
Strasburg said he has not spoken with Wainwright about how he handled things last year, but another Cardinals' starter has made an impact on his mentality.
"When I got hurt, [Chris Carpenter] reached out to me and talked to me about recovering and everything," Strasburg said of the right-hander who underwent Tommy John surgery in 2007 and will start Game 3 on Wednesday.
"So I think just watching how he goes about it, coming off of Tommy John and the way he's been such big-game pitcher in the playoffs, that's one guy I've watched in the past. Hopefully I'll have an opportunity soon to do the same thing."
Experience on tap
Much has been made of the Nationals' lack of experience in the postseason, but when Edwin Jackson takes the hill for today's Game 3 of the National League Divisional Series, the team will be running out its most playoff-tested veteran.
Jackson won a World Series in 2011 with the Cardinals but had a 1-1 mark with a 5.60 ERA four playoff starts, struggling in his two outings in the NL Championship Series (six runs in 6.1 total innings) and a World Series start (seven walks in 5.2 innings).
Jackson, however, is confident that his postseason experience with St. Louis and Tampa Bay will pay dividends for Washington.