BUENOS AIRES — Argentines increasingly are feeling trapped inside their country as the government restricts access to the foreign cash they need to travel.
Legally trading pesos for dollars or euros has become ever more difficult as President Cristina Fernandez tries to keep dollars inside the country and bolster the Argentine peso's sliding value.
New rules that took effect last week are squeezing them still further by going after credit card spending.
Until recently, travel was a rare exception to the currency controls first imposed in November: People up to date on their taxes and poised to cross a border, tickets in hand, can buy $70 to $100 per person for each day they plan to spend outside the country.
But the process is bureaucratic and intrusive, and many say their requests are rejected for reasons they don't understand.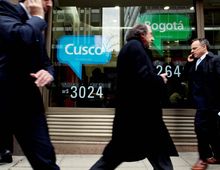 Credit and debit cards provided a legal way out, enabling people to make purchases and get money while abroad. Now the government is cracking down there as well.
The new measures make using plastic inside or outside the country less affordable by charging 15 percent in taxes on all foreign purchases that appear on credit or debit card bills, plus a 50 percent customs duty on any goods from abroad that might be brought back to Argentina.
Internet purchases on sites such as Amazon, eBay and the Apple Store are included, along with anything bought using online services such as PayPal.
Consumers will pay the tax along with their monthly card bills. And for the first time, the government will be able to scrutinize each cardholder's entire bill, tracking spending to capture anything unreported on customs and tax declarations.
Argentines are taxed on wealth as well as income, so this gives tax agents powerful new tools to collect a piece of everything they own.
Tax chief Ricardo Echegaray described twin objectives: catching scofflaws and making it less attractive for Argentines to spend abroad.
"Let there be no doubt that we prefer that everyone stay and spend their summers in Argentina," Mr. Echegaray said last month.
He later clarified that people who fully pay their taxes "can take vacations, buy things and do things anywhere in the world they wish to."
But travelers are learning that their pesos are no good outside Argentina, and saving them at home isn't an option, either, with inflation running at 25 percent or more a year.
Limited travel