The visitors' locker room inside the Superdome in New Orleans is divided into two sections. There's a room for offensive players and, if you walk through a short passage, you get to the defense's area. Inside there late Sunday afternoon, there might have been a new noise level record for a unit that just gave up 32 points.
The Washington Redskins' defense, however, earned that boisterous atmosphere with a performance worth celebrating. It sufficiently slowed the New Orleans Saints' offense, which ranked first in the NFL last season, in a rousing 40-32 win. They did it by mixing alignments, covering receivers closely and pressuring the quarterback — a formula they hope to repeat the rest of season, beginning with Sunday's game against the St. Louis Rams.
"We played well," defensive lineman Kedric Golston said. "Now we just need to keep the level of consistency there that I think we've been lacking here."
Defense — specifically the front seven — was the Redskins' strength during a 5-11 campaign last season, when they ranked 13th in total yards allowed and 17th in yards per play under coordinator Jim Haslett.
Truth is, though, Washington's defense has been its greatest hope for victory for almost a decade now. While the offense has languished and discarded half a dozen quarterbacks, the defense generally has been reliable.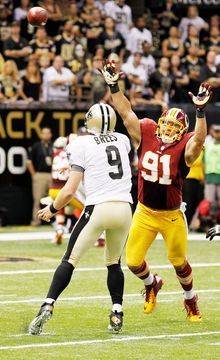 After the Redskins scored 40 points against New Orleans — their greatest single-game total since 2005 — players on defense hardly could process the luxury. Then it occurred to them that they don't want to.
"We can't go in expecting that all the time," linebacker Brian Orakpo said. "We want to go in there feeling like they can't score any points. We want to make sure we're not worried about what the offense is doing."
And so the defense will focus on why they were successful against the Saints. New Orleans rushed for only 32 yards, and quarterback Drew Brees' 46.2 completion percentage was his worst in 88 games dating to 2006.
The Redskins' pass rush was strong. Left outside linebacker Ryan Kerrigan and cornerback DeAngelo Hall sacked Brees, and Washington could have had at least four more sacks if Brees weren't so elusive.
Kerrigan and right outside linebacker Brian Orakpo switched sides more than they ever did during Kerrigan's rookie season a year ago. On one play, they even lined up on the same side next to inside linebacker Perry Riley.
"We got a lot of different formations and lineups," Orakpo said. "It creates mismatches. It creates: "What's going on? What are they doing this for? We don't know who is rushing or what side they're rushing from." It just kind of keeps it unbalanced a little bit. That's the kind of different stuff we've got this year."
Looking forward, the Redskins' pass rushers can be optimistic about their matchup with the Rams.
Not only is St. Louis preparing to play without injured left tackle Rodger Saffold and center Scott Wells, the Redskins had seven sacks against them in last October's 17-10 road victory.
Redskins rushers won individual matchups throughout that game as the Rams had to rely on the pass and stray from the running game in order to overcome an early deficit.
Washington's coaches are trying to prepare players for what they believe is a more difficult matchup this year. The Rams have a new head coach and offensive coordinator in Jeff Fisher and Brian Schottenheimer, respectively. And quarterback Sam Bradford, a former No. 1 overall pick, helped them to a lead over Detroit in the final minute last Sunday before eventually losing 27-23.