To most Libyans, J. Christopher Stevens was one of them.
The U.S. ambassador had stood by them, as they rose up and toppled Moammar Gadhafi's regime last year. What they cherished most was his unwavering optimism about their future.
Mr. Stevens, 52, died from severe asphyxiation caused by smoke inhalation on Tuesday night after heavily armed men attacked the U.S. Consulate in Libya's eastern port city of Benghazi.
The attackers, who claimed they were enraged by an American film that mocks the Prophet Muhammad, also killed Sean Smith, a Foreign Service information management officer, and two other Americans, who were not identified as their families had yet to be informed of their deaths.
Benghazi residents on Wednesday recalled Mr. Stevens as an affable and accessible diplomat. Many had spotted him stepping out of the confines of the diplomatic mission compound to buy a sandwich and meet ordinary Libyans.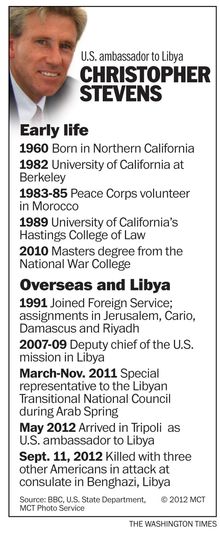 Libyan Deputy Prime Minister Mustafa Abushagur described Mr. Stevens as a dear friend who played a key role in helping the revolution, which first erupted in Benghazi in February 2011.
Envoy to the rebels
The Obama administration sent Mr. Stevens to Benghazi as its envoy to the rebels. In this capacity, Mr. Stevens coordinated the U.S. response to the humanitarian crisis in Libya.
"He was in Benghazi throughout the revolution and was very instrumental in its support," said Mr. Abushagur, who was elected prime minister by the Libyan legislature Wednesday.
Libya's ambassador to the United States, Ali Aujali, worked closely for many years with Mr. Stevens.
He recalled Mr. Stevens' "calm demeanor and strong determination" as he carried out his duties during the height of the revolution.
After the fall of the Gadhafi regime, Mr. Stevens was appointed U.S. ambassador to Libya. He assumed the post in May.
Libyans were overjoyed with the news of Mr. Stevens' appointment, Mr. Aujali said.
Speaking at the opening of the consular section at the U.S. Embassy in Tripoli on Aug. 26, Mr. Stevens said, "Relationships between governments are important, but relationships between people are the real foundation of mutual understanding."
Mr. Stevens shared a warm relationship with the Libyan people.