DEXTER, Mo. — Standing before about 65 people gathered in the back room of Hickory Log Restaurant and Lounge, Rep. W. Todd Akin nodded to a man in a striped yellow shirt who had raised his hand.
"As a Christian, I want to thank you so much for standing up and for not bowing," the man said. "I apologize for those who maybe threw you under the bus."
Mr. Akin interjected — "I'm still holding on to the bumper," prompting laughter.
The beleaguered Republican hit the campaign trail last week for the first time since the infamous interview that put him at odds with his party's leaders and initially appeared to doom his bid to unseat Democratic Sen. Claire McCaskill in Missouri.
Four weeks ago, he told a local television station that women's bodies have ways of rejecting pregnancies if they are victims of "legitimate rape," prompting wide condemnation from politicians across the political spectrum and leading his party's top officials to demand that he quit the race and let them replace him.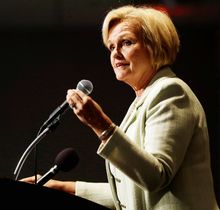 Appalled at his comments and fearing he could cost the party what had been an excellent chance to capture a Democratic seat, the Republican Senatorial Campaign Committee withdrew all financial support.
It was hoping to replace him with one of his two primary opponents, both of whom appeared to have a better chance of beating Ms. McCaskill, according to polls taken even before Mr. Akin's controversial comment.
But the opposition seems to have only energized the six-term congressman from the St. Louis suburbs, who kicked off each of his stump speeches Friday by declaring his independence from the "party bosses."
"A couple weeks ago, I felt like I parachuted into the middle of a hurricane," he told the audience at Hickory Log.
He has apologized multiple times for the comment and now says he got the medical facts wrong but insists that bowing out would disenfranchise the Republican voters who chose him in a competitive August primary.
"Over the years I've served in elected office, my rule of thumb has been, 'What's the principle, what's the right thing to do?' And the dickens with the politics," he said.
It's a lonely campaign trail for Mr. Akin, with even the state GOP keeping a frigid distance after nearly every major Republican in Washington denounced him for continuing his bid.
Mr. Akin received a warmer reception among local Republican groups that hosted him at campaign stops Friday. Still, party officials acknowledge there has been hesitancy. The Butler County Republican Central Committee rescinded its invitation for him to speak at its Reagan Day festivities.
The decision angered Carol Beam, who serves as the party chairwoman one county over in Stoddard. Ms. Beam said she called Butler County GOP Chairman Eddy Justice when she heard the news.
"I was mad, I was mad, I called Eddy Justice and I was just furious with him," she said. "But I feel like they're coming around, too."