ANALYSIS/OPINION:
The loudest headlines in local news are often about shootings, stabbings and assorted mayhem, events that should routinely leave us questioning whether we even value life anymore.
Have we become anesthetized to such violence?
In the nation's capital, a half-dozen people were victims of gun violence during 18 hours' worth of ticks of the clock between Friday and Saturday.
While much violence occurs under the cover of darkness, brazen gunmen also do their dirty deeds in the daytime, and we do not seem to notice or care.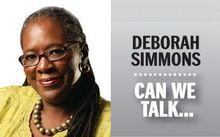 Andrea Noble, one of my colleagues, reported that two of the D.C. shootings occurred in broad daylight on Friday.
"The first occurred in the 5100 block of Fitch Street in Southeast around 12:53 p.m.," she wrote. "A man was walking through the area when a truck he did not recognize pulled up alongside him, and one man got out and came toward him. The man began firing a gun at him, striking him in the leg as he tried to run away."
Later, about 5 p.m., "a man was shot in the 500 block of Parkland Place in Southeast. Police had few details about that attack, other than that a man approached the victim and shot him in the back," her report said.
There was no mention of a religious or gender angle. No mention of any other hate crime or an angle about a tourist, veteran or military service member. There was no mention of drugs, a school, hospital, house of worship, funeral, movie theater or mall — the types of scenes that usually draw texts like "OMG."
And in Chicago, where violence has left former Obama administration guru Rahm Emanuel conceding that, as mayor, he needs the feds' help to stop the hemorrhaging, gun violence has even struck President Obama's neighborhood, which we know is always in the sight lines of various law enforcement patrols.
On Friday and Saturday in the Windy City, 10 people were shot, three fatally.
These are the very random acts of violence that should leave us soul-searching.
Why do our communities so easily gin up sympathy and empathy for a hate-crime victim and even hold rallies for justice, but just shake our heads when the victim, left dead or alive, is from a neighborhood pockmarked by crime or happened to be out and about in the 'hood at 2 a.m.?
It's like we have given up.
It's like we decided that guns are the problem, when what we have is a people problem.