TIMERGARAH, Pakistan — Hundreds of protesters demonstrating against an anti-Islam film torched a press club and a government building in northwestern Pakistan on Monday, sparking clashes with police that left at least one person dead.
Rioting demonstrators battled with police outside a U.S. military base in Afghanistan and the U.S. Embassy in Indonesia.
In Lebanon, the Shiite militant group Hezbollah planned a large protest in Beirut on Monday, after its leader, Sheik Hassan Nasrallah, said in a televised speech that the United States must be held accountable for the film.
Monday's unrest marked a shift to Asia in the weeklong violence sparked by the film.
Arab countries saw a third day of relative calm after multiple attacks on U.S. diplomatic posts, including one that killed J. Christopher Stevens, the U.S. ambassador to Libya, and three other Americans, forcing Washington to ramp up security in select countries. At least 10 protesters have died in the week of violence.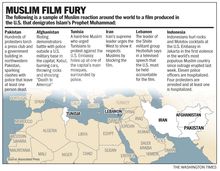 Hezbollah's call seemed aimed at keeping the issue alive by bringing out large crowds.
It called the protest in its own mainly Shiite stronghold of Dahieh in south Beirut, far from the U.S. Embassy in the mountains north of the capital or other international diplomatic missions.
For the group, anger over the low-budget movie that denigrates the Prophet Muhammad provides a welcome diversion from the crisis in Syria, which has brought heavy criticism on Hezbollah for its support of Syrian President Bashar Assad. But stoking riots in Beirut also could bring a backlash in the tensely divided country.
The movie portrays Islam's prophet as a fraud, a womanizer and a child molester. Protesters have directed their anger at the U.S. government. They demand that Washington do something to stop the film from being broadcast over the Internet, although the film was produced privately.
American officials have criticized the film for intentionally offending Muslims.
German authorities are considering whether to ban the public screening of the film, titled "Innocence of Muslims," because it could endanger public security, Chancellor Angela Merkel said Monday. A fringe far-right political party says it plans to show the film in Berlin in November.
Iran's supreme leader, Ayatollah Ali Khamenei, called on the West to block the film Monday to prove Western countries are not "accomplices" in a "big crime," according to Iranian state TV.
Such an appeal falls into the major cultural divides over the film. U.S. officials say they cannot limit free speech, and Google Inc. refused to remove the video clip from its YouTube network. Some countries have taken their own initiatives and censored the film.
Several hundred demonstrators in Pakistan's northwest clashed with police Monday after setting fire to a press club and a government building, said police official Mukhtar Ahmed. The protesters apparently attacked the press club in Khyber Pakhtunkhwa province's Upper Dir district because they were angry their rally wasn't getting more coverage, he said.
Police charged the crowd in the town of Wari, beating back protesters with batons, Mr. Ahmad said. The demonstrators then attacked the office of a senior government official and surrounded a local police station, said Mr. Ahmad, who locked himself inside with several other officers.