It wasn't bad enough that the Washington Redskins gave up 810 yards over their first two games. It wasn't bad enough that they surrendered more than 30 points for the sixth time in their past seven games dating to last season.
Monday, things went from bad to worse for a defense that used to be counted on as the Redskins' strength: Linebacker Brian Orakpo and defensive end Adam Carriker will miss the rest of the season with injuries.
"At the outside linebacker, you've got guys like [Rob] Jackson and Chris Wilson; they both have to step up and play at a very high level because we all know what 'Rak has done with our defense and how well he's played," coach Mike Shanahan said. "[At defensive end], you have guys like Jarvis Jenkins that now he gets his opportunity to start. A year ago, we lost Jarvis and Adam took over and did a great job last year, played at a very high level."
The defense will have to play at a much higher level than it did against the New Orleans Saints and St. Louis Rams. Statistically, the Redskins have the third-worst defense in the NFL after Week 2. Sunday's loss at St. Louis was a wake-up call.
"I think we just didn't play like ourselves. I think that won't happen again," cornerback Richard Crawford said. "I think we'll be ourselves from now on. A couple missed tackles, a couple busts. That's what keeps a defense from being dominant is just a couple mental busts."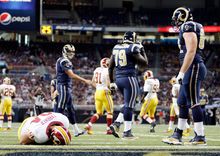 Injuries also can keep this unit from being dominant, and it will be even harder to bounce back without Orakpo and Carriker.
Orakpo tore his left pectoral muscle, though Shanahan said it was in a different spot than last year. His recovery time is expected to be three to four months. In the meantime, the Redskins will have to adjust to the loss of a player who led them with nine sacks in 2011.
"He's a guy that can do it all," Shanahan said. "He can cover, he can rush, he can play the run, he's very physical, very smart, a key player. He's all the things you look [for] in a Pro Bowl player. Obviously, we'll miss him."
They'll miss Carriker, too, after the veteran tore the quadriceps tendon at the base of his right knee.
"Adam's been a big part of what we've been able to do around here, a tremendous player for us," middle linebacker London Fletcher said. "We'll miss him, but it's an opportunity for somebody else now. We're a no-excuse football team. Hey, injuries happen in the National Football League, so the next man has to come up and play well in that position."
Jenkins, Kedric Golston and Chris Baker figure to be in the mix along the defensive line.
But needing to replace Carriker and Orakpo is not simple; the Redskins went all of last season without a starter on their front seven missing a game with injury. Players are taking Shanahan's mantras to heart now, because they don't have a choice.
"When somebody gets injured, we shouldn't have a drop-off," Jenkins said. "That's what everybody gets coached for, that's why everybody goes to training camp, that's why our defensive-line coach coaches everybody the same because once one guy goes down, somebody has to step up."
Forget about injuries, the defense knows there's a need to step up all around after Sunday's shoddy effort that included giving up 452 yards and failing to make key stops.
"As a defense, we didn't do enough, we didn't play well enough to win a game because our offense gave us 28 points, which is more than enough to win a football game," Fletcher said. "Each player made enough mistakes, one mistake here and one mistake there, whether it was a technique mistake, an assignment mistake that kept their drives going and allowed them to get big yardage and make plays."