The phone rang repeatedly but was not answered. Persistent knocks on the door were ignored. Friends and teammates were worried, and an entire city was confused. A billboard on Route 50 in Northwest D.C. said it all: "Missing in action — Chamique Holdsclaw."
She can smile about it now, but eight years ago, Holdsclaw recalls being home alone, engulfed by darkness from the closed window shades. Darkness invaded her thoughts. In what seemed to be mere moments, three days had passed.
As she sat on her sofa eating a bowl of Fruity Pebbles, Holdsclaw realized for the first time that something was wrong, and she had no idea how to fix it.
"I was living in a condo close to [Verizon Center], and I remember leaving practice and heading home," Holdsclaw recalled. "The next thing I knew, I had lost three days."
It was the defining moment of a two-year downward cycle that began with the death of her grandmother.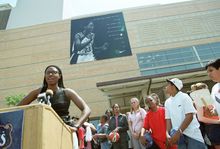 "My grandmother who raised me and had always been supportive passed away, and I felt really empty," Holdsclaw said. "I felt alone. I had so much — a great career, family support, awesome friends. But to me, I was just like on an island by myself, in my head."
Getting Help
A friend took Holdsclaw to see a psychiatrist. The initial sessions were intense, twice a day for a week. When she was diagnosed with clinical depression, her first reaction was denial.
"I was shocked," Holdsclaw recalled. "I've had ups and downs in life, trials and tribulations just like anybody else. But for somebody to look at me and tell me I think you need to be medicated for this — it's going to improve your life, it really just threw me back. I was in denial for so long."
If denial was Holdsclaw's first reaction, embarrassment was her second. A star in the WNBA and the Washington Mystics' best player, Holdsclaw knew she couldn't keep the team in the dark about her condition.
"I was having extreme highs and lows and thinking, "I don't want to be here,'" Holdsclaw recalled. "But I was in a professional organization, and this episode happened during the season."
Holdsclaw would play just one more game in a Mystics uniform and requested a trade in the offseason. Weary of the rampant media speculation regarding her absence, ranging from pregnancy to cancer, Holdsclaw was embarrassed to tell the truth about her condition and wanted to escape the flood of bad memories that Washington held for her.
Today, she calls leaving Washington one of her biggest regrets.
"I ran. I was embarrassed. I didn't want to be here," Holdsclaw said. "I don't regret much, because it all makes you a better person, but I wish I would have learned how to deal with things and stayed here and finished out my career here. This is my city, this is my support system, my second home."
After leaving the Mystics, Holdsclaw spent two seasons with the Los Angeles Sparks then announced her retirement. She returned a year later, however, to play for the Atlanta Dream. Her last WNBA season was 2010 with the San Antonio Silver Stars.