The ball nestled safely into the glove of catcher Kurt Suzuki as the scene behind him exploded. The final out in a win D.C. had waited 79 years to celebrate coming on a swinging strikeout. Drew Storen pumped his fist into the air as 30,359 fans danced in the aisles at Nationals Park.
For weeks the Washington Nationals downplayed what this moment would be like and how they'd react. Fireworks shot from the roof of the stadium, and while pandemonium began to take hold in the seats around them, players calmly went into their usual post-game handshake line.
With their 4-1 victory over the Los Angeles Dodgers Thursday night — a crisp fall evening in Washington — a D.C. baseball team sealed its first postseason berth since 1933.
"It was one of those feelings you've never had before," said third baseman Ryan Zimmerman, the face of a franchise that had spent most of its existence dreaming of a day like this but perhaps not believing it would ever come to fruition. "I had no idea what to do. I haven't won anything since friggin' Little League."
They slipped on red t-shirts and gray 'Playoffs' hats. The scoreboard behind them beamed the good news: 'Nats Clinch,' it blinked in enormous block letters. They bounded into the clubhouse, a small champagne toast waiting for them with a dual meaning: to acknowledge what they'd accomplished, and remind them of what still lies ahead.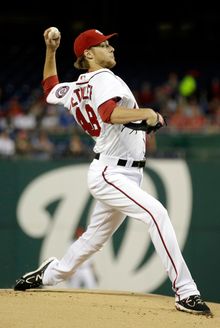 "This is no doubt a big day for this organization and this city," first baseman Adam LaRoche said. "Not to downplay the day at all, but guys aren't satisfied in here. We don't look at this like 'mission accomplished.'"
The Nationals are playoff bound, into the one-game wild card playoff at least, and needing any combination of their own wins or Atlanta Braves losses totalling eight to ensure the National League East crown and a spot in the division series. The Nationals have a 5½-game lead on the Braves with 13 games to play.
What they ensured Thursday is that for the first time since baseball returned to Washington in 2005, they'll play more than 162 games in a season. They'll keep the gates to Nationals Park open at least a little bit longer.
"That was fun," said Nationals manager Davey Johnson, the same man who said in spring training that the organization could fire him if they didn't make the playoffs and back in the postseason himself for the first time in 15 years. "But that's not what I had my eye on. It's a nice step to get here, but every manager that's leading the division, that's the only thing that matters, winning your division … I don't want this."
But Johnson could hardly contain his smile as he spoke, despite the words coming out of his mouth indicating that he took little satisfaction in this seat at the play-in game table. He raised his glass to the players, pulled out of his office for the toast, and said to them what they already knew "We ain't done yet."
"We've got way too much focus in here to be celebrating this," said shortstop Ian Desmond. "I've got a much bigger picture in my mind. This basically means that if we lose every game from here on out we get to play one more game. We're way beyond that. If we come out and play as good as we can the rest of the year hopefully we'll be celebrating much bigger things."
For months it seemed like a formality, as the Nationals ran roughshod over almost everyone they met and surged ever further above a .500 mark that appeared a lofty goal in years past. They were the only team in the major leagues to post a winning record in every month of the season, including what is now an 11-7 mark in September.
But for all of the various forms the Washington Nationals have taken on this season, all of the ways they've proven that they're better than just about everyone, they've always come back to one ultimate truth.
At their core, the Nationals are a team built on exceptional pitching.
So in a game that meant perhaps more than any other in their organization's eight-year history, they delivered with their strength. On a night that ensured they'd join nine other teams this October with a legitimate chance to win a World Series title, their 91st win of the season came on the back of a signature pitching performance.