The post-Emmy champagne surely tasted sweet for the people at "Modern Family" and "Homeland," but they needed only to look around the Nokia Theatre to see how quickly popular tastes and Hollywood's most unpredictable awards show can change perceptions.
"Modern Family" continued its run as television's most honored comedy at Sunday's Emmys, winning the best comedy award for the third year in a row, a directing honor for co-creator Steve Levitan and acting trophies for Julie Bowen and Eric Stonestreet. They were already conscious that with such success may come an inevitable backlash.
"I'm praying that everybody doesn't get sick of us," Mr. Levitan said backstage. Maybe the Emmys' director did: Music swelled and the stage lights were cut off as Mr. Levitan was in the middle of his acceptance speech for best comedy.
Across the theater was a reminder that things change: One-time Emmy darling Tina Fey sat barely unnoticed and trophy-free as her show "30 Rock" is coming to an end. She was one of the first people to bolt from her seat and head for the exit when the three-hour telecast ended.
The terrorism thriller "Homeland" won critical plaudits and the best drama Emmy, as well as top acting awards for Claire Danes and Damian Lewis. The writing for "Homeland" also was recognized. Showtime's first-ever best drama honoree prevented "Mad Men" from winning its fifth straight best drama Emmy.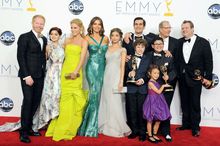 Once showered with honors, "Mad Men" set a record Sunday with 17 nominations and zero wins, said Tom O'Neil of the Gold Derby website, which follows awards shows.
"We didn't make our show just to undermine them," Miss Danes noted backstage. "We're delighted and thrilled and a little startled by this. I don't think anyone expected to be recognized like this right off the bat, but it feels pretty nice."
Mr. Lewis, Miss Danes' co-star, took note of "Breaking Bad" star Bryan Cranston, winner of three best actor Emmys who had been trying for a fourth on Sunday.
"I was quite convinced he would be walking up tonight," he said.
Along with the awards, there were a few cultural moments that lit up social media and will be water-cooler fodder as TV fans head back to work:
• Miss Danes' odd "Mandy Patinkin, holla!" tribute to her fellow actor.
• Host Jimmy Kimmel and Tracy Morgan conspiring to start a rumor that Mr. Morgan had passed out onstage.
• Curve-accentuating dresses worn by the likes of Kat Dennings of "2 Broke Girls," Sofia Vergara of "Modern Family" and Christina Hendricks of "Mad Men."
• Jon Stewart punctuating his acceptance speech with an F-bomb, resulting in the only bleep of the evening.
Mr. Stewart's "The Daily Show" is one of the Emmy Awards' sure things. It won the award for best variety show for the 10th straight year. CBS' "The Amazing Race" won its ninth award for best reality show in 10 years.