Britain's Royal Collection Trust is going pop art with the purchase of four famous Andy Warhol portraits of Queen Elizabeth II.
The colorful screen prints are based on a formal photograph of the queen wearing a tiara and necklace that was used during her Silver Jubilee celebrations in 1977.
They will form part of the Portraits of a Monarch exhibit starting in November at Windsor Castle.
The purchase brings Warhol's distinctive style to a collection of portraits of British rulers that dates back to the 15th century.
Officials declined Monday to specify how much was paid for the portraits.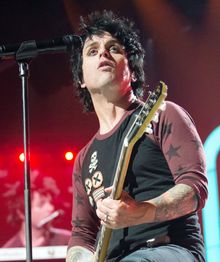 The exhibit will be open to people who visit Windsor Castle, which is roughly 20 miles west of London. It will run until June.
Springsteen's mom joins late-night birthday party
Bruce Springsteen celebrated his 63rd birthday onstage until nearly 2 a.m. Sunday, joined at the end by his hearty mom.
Adele Springsteen danced and sang background to "Twist and Shout," walking offstage with her son and his band at nearly 2. Her only concession to age was a pair of hastily made earplugs.
She watched as her son cut a giant cake in the shape of a guitar, passing out pieces to some audience members.
His show in the open-air MetLife Stadium was delayed for three hours Saturday by authorities because of a downpour and worries about lightning. Thousands of fans clustered on indoor ramps waiting for the rain to stop.
When it did, Mr. Springsteen and his E Street Band took the stage at 10:30 p.m. to the strains of Wilson Pickett's "In the Midnight Hour," a song they performed when the clock hit that mark. They also covered Creedence Clearwater Revival's "Who'll Stop the Rain," and it worked.
"Thank you for your patience," Mr. Springsteen told the audience. He said it had been a long time since he had performed on his birthday.
It was the third of a three-night stand at his home state venue.
Green Day's Armstrong heading to rehab