ALBANY, N.Y. — New York state's congressional elections are testing the staying power of Republicans who rode a tea party wave to a House majority two years ago — as well as the resilience of Democrats striving to regain control.
Democrats are targeting four of the five Republicans who took New York congressional seats away from them in 2010. Two more of the most-contested House races in New York are in heavily Republican districts where Democrats won special elections.
The big money involved in the New York contests reveals the GOP's intention to preserve its foothold in the heavily Democratic state. The National Republican Congressional Committee said it had reserved $5.25 million for TV time in New York, more than half of it to defend three freshmen. The rest is going to three districts held by Democrats, including the Buffalo area seat won by Kathleen C. Hochul in a special-election upset last year.
Democratic spending indicates President Obama's party is equally committed to gaining influence as part of the party's drive to add 25 seats and reclaim the House majority. The Democratic Congressional Campaign Committee said it has spent or reserved $1.02 million for TV time in two New York races.
Ms. Hochul made national headlines when she won by framing the race as a referendum on the GOP plan to transform Medicare authored by Rep. Paul Ryan, now the party's vice presidential candidate.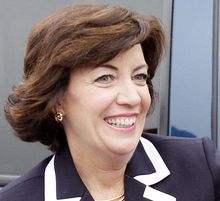 It's not clear whether that strategy will work against Ms. Hochul's new Republican challenger, Chris Collins. In a recent interview, the former Erie County executive refused to give an opinion on the plan.
"I'm someone who looks forward and not backward," Mr. Collins said. "And the Ryan budget is in the past."
New York lost two of its 29 seats in the House to redistricting for the 2010 Census population changes.
The battle in Ms. Hochul's district, which stretches between the Buffalo and Rochester suburbs, is one of the nation's most closely watched. A Siena College poll last month showed a statistical dead heat.
A bit east, near Syracuse, Democrats hope Dan Maffei can win back the seat he lost to Republican Ann Marie Buerkle by just 648 votes in 2010.
The DCCC said it has spent or reserved $361,616 in TV ad time for the race, a fraction of the $1.19 million reserved by the National Republican Congressional Committee.
It's one of two New York seats both committees are funding for TV ads. In eastern New York, the NRCC has reserved $1.32 million for freshman Rep. Christopher P. Gibson, who is being challenged by Democrat Julian Schreibman. The DCCC has spent or reserved $681,481 for TV ads there.
Two other races provide second chances to Republican challengers who just fell short in 2010.
In northern New York, Democratic Rep. William L. Owens is defending his seat again against Republican businessman Matt Doheny, who narrowly lost in 2010 when a Conservative Party candidate took thousands of votes.
On eastern Long Island, Republican businessman Randy Altschuler is trying to unseat five-term incumbent Democratic Rep. Timothy H. Bishop. Altschuler came within 593 votes of defeating Mr. Bishop two years ago.