British Prime Minister David Cameron's booking on "The Late Show With David Letterman" has ignited a media debate in London.
His appearance, scheduled for Wednesday, will mark the first time a British prime minister in office will have appeared on the show. Mr. Cameron is in New York to give a speech to the U.N. General Assembly.
He will enter Mr. Letterman's arena intending to talk up British business, riding the wave of optimism created by the success of the London 2012 Olympic Games. However, the guest appearance is being eyed with a mixture of caution and bravado in the British press.
Rupert Murdoch's News Corp.-owned Times described Mr. Cameron's appearance as "a high-risk move," while the Guardian called the plan "brave, if slightly foolhardy" given Mr. Letterman's tendency to ask "awkward" questions.
The conservative party leader's appearance comes after fellow conservative and London Mayor Boris Johnson showed up on the show in June in the run-up to the Summer Olympics. His performance drew laughs when Mr. Letterman asked the famously wild-haired mayor how long he had been responsible for cutting his own hair.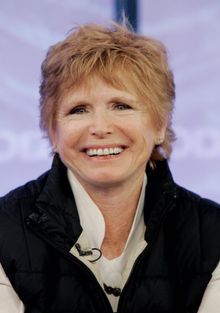 Mr. Cameron, a former head of communications at Carlton Communications, once part of commercial broadcaster ITV's network of companies, is certainly media savvy.
But the British press will want to see if Mr. Letterman probes the prime minister — lightheartedly or not — on such topics as his high-profile relationships with some of the key names involved in the News Corp. phone-hacking scandal.
Earlier this year, Mr. Cameron appeared before the Leveson Inquiry into media ethics and standards to give evidence on his relationship with Mr. Murdoch and his neighbor Rebekah Brooks, the former News of the World editor and News Corp.'s U.K. publishing arm News International's CEO.
'One Day At a Time' star facing pancreatic cancer
Bonnie Franklin, who starred in the sitcom "One Day At a Time," has been diagnosed with pancreatic cancer, her family said Monday.
In a statement released by CBS, the family said the 68-year-old actress is undergoing treatment and continuing her normal schedule.
Miss Franklin, who lives in Los Angeles, and her family "remain extremely positive" and asked that her privacy be respected.
The petite, red-headed actress starred as single mom Ann Romano in the hit CBS comedy "One Day At a Time," which aired from 1975 to 1984. Her co-stars included Mackenzie Phillips and Valerie Bertinelli.
On her Twitter account, Miss Phillips sent "out love and sweet prayers" to the "incomparable Bonnie Franklin."
Miss Franklin's recent credits include appearances on "The Young and the Restless" and "Hot in Cleveland," which reunited her with Miss Bertinelli.