Players anticipating next week's release of a new chapter of the granddaddy of survival horror video games can whet their appetites viewing a ferocious animated movie co-starring some of their favorite mutated creatures.
Now in the Blu-ray format, Resident Evil: Damnation (Sony Pictures Home Entertainment, not rated, $30.99) offers a standalone sequel to last year's "Resident Evil: Degeneration." It stars the familiar American agent, Leon S. Kennedy (soon to be part of Resident Evil 6), as he confirms the rumors of B.O.W. (bio-organic weaponry) used in the civil-war-torn Eastern Slavic Republic.
Our hero's mission takes him to the rebel compound to uncover the mutated horrors of war.
During the gory adventure, he'll also meet up with the acrobatic and flirtatious mercenary Ada Wong, who has been investigating the secret of President Svetlana Belikova and her government's success against the rebels.
Make no mistake, however, this is a classic monster movie that pays tribute to the gaming franchise. Packed with gross action scenes, the 101-minute tale reintroduces some great Resident Evil monsters, including Lickers, Tyrants and the Plaga.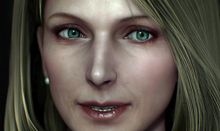 Leon often encounters creatures in a perfect "haunted house" game scenario, such as while wandering through a parking garage with only the beam of a flashlight to light his way, or around the corners of claustrophobic underground corridors.
Better yet, the animation throughout is stunning.
A strong, illustrated montage (with a style similar to Lee Bernejo or Alex Maleev) introduces the Soviet collapse and gives a short history of the break-off country's current predicament before the stylish and dynamic lifelike animation kicks in.
What will dazzle before even a drop of blood is sprayed on the screen is the awesome use of motion-capture technology melded with computer-generated animation. Orchestrated by Japanese designers and supervised by Capcom producer Hiroyuki Kobayashi (who has worked on many Resident Evil game titles), the results are eerily lifelike.
Details such as hair moving with a simple motion and incredible facial minutia down to chapped lips bring lead characters such as Leon (who looks like a young Dolph Lundgren and Bradley Cooper combined) and Ada to life.
A catfight between two females plays out as a spectacular ballet of violence (worthy of a Tekken 2 battle), while encounters with massive humanoids deliver some blockbuster-style moments. Lickers (skinless pantherlike creatures with exposed brains) are almost too gross to appreciate with their raw, glistening muscle mass, always salivating for flesh, while infected humans drip blood from their eyes, veins undulating as the disease takes over.
My heart aches every time I see the awesome potential of this CGI medium to bring heroes and villains to life, especially compared to the uninspired, too-traditional animation work coming from the DC and Marvel Entertainment brand of PG-13 cartoon features.
Resident Evil: Damnation is a gorgeous, animated thrill ride that takes advantage of the beauty of the high-definition format and blows away the live action films. Mature gamers will find themselves reaching for a controller, wishing they could take part in the visceral experience.
Best Extras: The gamer will appreciate a trailer for Resident Evil 6, but I would have preferred some sort of special download to the PlayStation 3 to actually play some of the new title.
Next, fans of the Resident Evil franchise will enjoy the seven-minute glimpse into tragic life of Dr. William Gibson, played out as viewers watch a simulated computer screen. Dr. Gibson accesses his files and narrates a quick encyclopedic overview of the mutations and infections that now attack humanity, including the origin and symptoms of ingesting the Las Plagas parasite, the Ganados, Lickers and forms of the Tyrant (a powerful humanoid brute originally developed by Umbrella Corporation using the potent T-Virus).