PHILADELPHIA — The Washington Nationals will tell you that they're not thinking about it. That their focus doesn't vary from the task at hand each day. On Wednesday, that was preparing to play the Philadelphia Phillies and attempting to shave their magic number to clinch the National League East to four.
But the time is coming when the Nationals will have to set a playoff roster — when they'll have to take who they deem their best 25 players for what they intend to be the National League Division Series.
The Nationals are carrying 33 players on their active roster, so who stays and who goes when it comes time to trim back to their pre-September level? It depends on a host of factors, including opposing lineups, bench, bullpen and even ballpark.
"A lot of it is how we match up [with our opponent] and every club is different," said manager Davey Johnson. "I don't have to make those decisions yet, but you look at all the factors involved."
The Nationals plan to keep four starting pitchers, which means they'll have at least one extra spot to use in their bullpen or on their bench.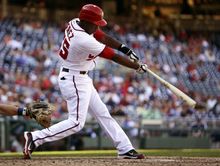 They won't carry Stephen Strasburg on the playoff roster as he'll be inactive. September call-ups Chien-Ming Wang, Zach Duke, Corey Brown and Sandy Leon are likely candidates to join Strasburg off the roster as well. As a procedural note, all players will stay with the team throughout the postseason regardless of whether they're on the roster.
Things can change, but the Nationals will have to decide between keeping Mark DeRosa active with Tyler Moore available, and the same goes for John Lannan if Washington can use that No. 5 starter spot to keep a late-inning reliever such as rookie Christian Garcia.
Where things get a little more interesting is when the Nationals find out their opponent. Then they can debate whether to carry a long reliever such as Tom Gorzelanny, despite the fact that long relievers will have little place in a short series with frequent off days, instead of a speedy position player such as Eury Perez, who would serve primarily as a pinch runner.
Johnson wasn't tipping his hand, but he did note that the way the 25-man roster was balanced for much of the season leaves him with few hard decisions.
"You can change players from one series to another and sometimes you do that," Johnson said. "But if the team is put together pretty balanced like this team is, you don't have to do that. You're not trying to get heavy one way or the other because you feel like you like your balance the way it is, and I've pretty much liked the balance we've had all year long."