Doubt crept into Kory Lichtensteiger's mind about two weeks ago. The Washington Redskins' first-string left guard wasn't just worried about whether his surgically repaired right knee would prevent him from playing against New Orleans this Sunday.
It was way worse than that.
Lichtensteiger feared his ailing knee, which has required two surgeries in the last year, would keep him off the Redskins' final roster.
It turns out he did not receive the dreaded phone call during cuts Friday, though, and now he's looking forward to Sunday's season opener against the New Orleans Saints. It will be his first game of any kind since his major injury last October.
"I honestly didn't know," Lichtensteiger said as he downed a recovery shake following Monday afternoon's practice. "I'm glad this team has the faith in me that they do because I feel like they wouldn't have waited on a lot of guys through all the preseason. I'm very appreciative of that."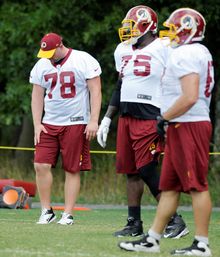 What began as a breakout season for Lichtensteiger was cut short Oct. 16 after only four full games. His knee buckled when he tried to block Philadelphia Eagles defensive end Darryl Tapp following an interception. He was not the recipient of a cheap shot, he said.
Lichtensteiger's leg bent at a 45-degree angle in a way a healthy leg never would. His ACL, MCL and meniscus were torn.
An offseason's worth of rehabilitation had Lichtensteiger ready for training camp in July. He felt great with full trust in his knee.
But then he suffered a setback just days into camp. A bad step, a hyperextension and more pain. Lichtensteiger sensed it would subside after a few days of rest, but doctors told him the chances of him surviving the season without arthroscopic surgery were minimal
On July 30 he had it scoped to remove particles, and then the rehabilitation race against the calendar began.
Three weeks after surgery, the knee still felt bad. "It didn't feel very stable," he said. He worried about his fate.
"I was like: Is the reason I'm going to be done playing football right now, because of a knee? I didn't want that to happen," Lichtensteiger said.
Teammates have sensed Lichtensteiger's frustration throughout a grueling rehabilitation process that grew tiresome a long time ago.
"I could see it in his face when I came into the training room," left tackle Trent Williams said. "He's a very positive person, and every time you see him, he always has a smile or something quirky to say to make you smile. And I didn't really see that out of him because I don't think he felt like he was where he wanted to be. I'm just glad he stayed diligent with his treatment."
Lichtensteiger's anxiety turned to relief in the past two weeks, though. His knee began to feel better as he realized which leg muscles he needed to strengthen in order to stabilize it.