At first glance, it looked as if the elections might be a slam-dunk for Republicans this year, given the way presidents in recent history have fared in the face of poorly performing economies. But as the GOP is finding out, today's economy is a double-edged sword that is cutting both for and against President Obama.
Just as the Great Recession from December 2007 to June 2009 was a once-in-decades economic event, the aftermath looks like it may produce an outlier election for an incumbent president who took office at the height of the economic crisis and has tried to nurse the economy back to health with mixed and disappointing results.
The recovery, as Republican presidential candidate Mitt Romney notes repeatedly, has been frustratingly slow, with the level of employment about halfway toward what it was before the recession. Some sectors, notably housing, may not recover fully for years or decades. Other sectors, such as the auto industry, are doing well but have been downsized permanently.
The stock market is not far from making up all the ground it lost. The Dow Jones industrial average ended last week more than 700 points shy of its all-time high of 14,156. But gasoline prices also have come close to broaching record highs over $4 a gallon in recent summer driving seasons.
Political candidates and strategists who have been befuddled by the mixed performance of the economy are not alone. Economists and political scientists who have made their careers trying to accurately forecast presidential election outcomes based on the economic performance also are all over the map this year. A few point to indicators such as an unemployment rate stubbornly higher than 8 percent throughout Mr. Obama's presidency and are predicting a victory for Mr. Romney. Others see a decisive re-election for Mr. Obama based on the improving economic environment in key swing states such as Virginia and Ohio.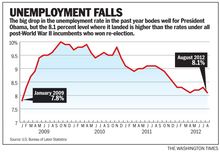 Signs point both ways
Some of the favorite indicators used to forecast elections are pointing in diametrically opposite directions. The stock market, for example, has a good history of foreshadowing the victor of the presidential race. Its double-digit annual gains throughout Mr. Obama's term and solid performance this year are pointing to his re-election. Various futures markets that enable investors to bet on the outcome of the election also have moved overwhelmingly in favor of the Democrat in recent weeks.
"The market increasingly reflects a status quo election," with Mr. Obama winning re-election and Congress remaining divided between a Republican-led House and Democratic majority in the Senate, said Jeff Kleintop, chief market strategist at LPL Financial.
But another popular election gauge hailed as foolproof by some pundits — the Conference Board's Consumer Confidence Index — favors Mr. Romney. It is hovering far below the 95 level that was the dividing line between incumbent winners and losers in past elections. The index shot up to 70.1 percent in September, but has been in recession territory for most of Mr. Obama's term.
"Since its inception in 1967, [the confidence index] has been a perfect predictor of presidential incumbent election performance," said Ben Steil, a fellow at the Council on Foreign Relations and a confidence index enthusiast. He said the gauge has been reliable because it closely tracks the ups and downs of the job market.
What the gauge is saying this year is, "It's the jobs, stupid," and that's endangering Mr. Obama, he said.
Others who adhere to the theory that the job market is paramount note that no president in modern history has been re-elected with an unemployment rate higher than 7.4 percent. But even that rule must be qualified: Another rule of thumb followed by forecasters is that a large decline in the unemployment rate in the year leading up to the election bodes well for the president. That would suggest the drop to 8.1 percent last month from 9.1 percent a year ago will boost Mr. Obama's prospects.
Diverging forecasts
Just as such widely followed indicators are contradicting one another, economic models used with success to forecast elections in the past are producing vastly different results this year. Moody's Analytics is predicting a solid Electoral College win of 303 out of 538 votes for Mr. Obama based on the economy's performance in swing states such as Ohio and Virginia, where the unemployment rates, at 7.2 percent and 5.9 percent respectively, are significantly below the national average.
Xu Cheng, a Moody's analyst, said the overall sluggishness of job growth and high unemployment rates still pose obstacles for Mr. Obama and are helpful for Mr. Romney. But with so many states already in one candidate's column or the other, it comes down to the jobs situation in 14 swing states that will decide the election, and those are breaking for Mr. Obama, he said.