When a massive earthquake struck Haiti in January 2010, Pierre Garcon didn't just watch CNN. He slept with it on.
The Washington Redskins wide receiver had never lived in Haiti, but his parents are Haitian immigrants. He still had family there. The small Caribbean nation always was, in a way, his home. And he wanted to help.
Garcon founded the Pierre Garcon Helping Hands Foundation as a means of channeling resources directly to the Haitian people after the earthquake. He also flew to Haiti on mission trips and worked with three other charitable organizations in the region, partnerships he still maintains today.
"It's just a natural process to be fortunate and be able to help people that are less fortunate," Garcon, 26, said. "Especially in Haiti — in a different country where life is so, so different. We have so much here and so little there."
As a key offensive weapon on the Indianapolis Colts, Garcon used his public profile to champion the earthquake relief efforts. He celebrated one victory by draping a Haitian flag over his shoulders and used every news conference as a chance to raise awareness for the cause.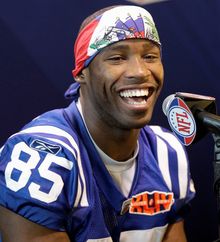 Haiti has since left the public's eye, but Garcon's work there continues. He travels there at least twice a year to visit family and help rebuild the country.
Last Fourth of July weekend, for example, Garcon paid his way to Haiti, brought a couple of friends with him and worked with members of the Northwest Haitian Christian Mission for four days. On past trips, they have distributed food and medical supplies. This summer's work included rebuilding a house, visiting a hospital, speaking with children, working on a basketball court and furnishing a new computer lab.
"When he goes down there, he works," Garcon's agent, Brad Cicala, said. "He's not a guy that just goes down and drops some money off, takes some pictures and leaves. He actually goes down and does some hands-on work."
Garcon's charitable work is not limited to Haiti. He was an active contributor to the Indianapolis community during his time with the Colts, and after signing a five-year, $42.5 million contract with the Redskins on March 13, he's looking to make an impact in the District as well. His agent said Garcon is planning to spend a couple of his off days during the upcoming season at area charter schools, interacting with children and raising money.
Earthquake relief was just one piece of the puzzle. Garcon's true passion is working with children.
"Basically I want to inspire children to do the right thing and show them it can be done, no matter where you're from, no matter who you are," he said. "You don't have to be an athlete to get to where you want to be."
The reason for all his service is simple. Garcon's mother, Marie Nicolas, worked in the sugar cane fields during the day and took shifts at a local post office overnight. His father died when he was 6. They could only dream of the opportunities their son has now, and he knows that.
"I watched this guy grow up," said Enol Gilles, a friend of Garcon's from high school. "He's not the kind of guy that goes about with a lot of jewelry, a flashy car. He still has the car from his rookie years, despite his signing bonus, and that's the kind of person he is.
"He's been one of my role models, man."
Garcon was signed by the Redskins to be a vertical weapon for rookie quarterback Robert Griffin III. But the lasting impact of his career most likely will be felt away from the football field, in Haiti, where children recently began playing football and now wear T-shirts with "Garcon" printed on the back.