Those inside Maryland's locker room know Demetrius Hartsfield takes vastly different approaches to the situations he encounters.
Sometimes, the linebacker even surprises teammates with his antics.
"Demetrius is crazy," defensive lineman A.J. Francis said. "When we were in Daytona Beach for spring break two years ago, he was break dancing in the middle of the street. Of all the people on our team you'd have picked that would be break dancing in the middle of the street, Mete ain't one of them."
From the outside, too, it's hard to imagine the 6-foot-2, 240-pounder offering up such an impromptu exhibition. For much of his career, Hartsfield earned a reputation as a polite but reserved starter in a linebacking corps featuring characters such as Adrian Moten and Alex Wujciak. Even last year, Kenny Tate's presence overshadowed Hartsfield's move to middle linebacker.
Now, he's arguably the elder statesman on the roster thanks to a team-high 30 career starts and is one of the most crucial pieces of the Terrapins' revamped defense.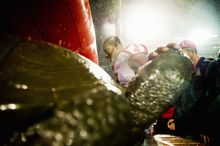 All the while, Hartsfield is lending some personality to the Terps while manning the "Mo" inside linebacker position. Or perhaps, more accurately, he is providing personalities.
"I have, you could say, a media-type personality where I'm kind of laid-back," Hartsfield said. "I have my on-field personality where it's insane. And then I have, when I'm around [teammates], I'm more wild and people really don't see that side. They always joke about me having multiple personalities. I always think that's funny."
On the field, he doesn't provide amusement for opponents. The ACC's career tackles leader among active players (273), Hartsfield has produced formidable moments throughout his career. There was a game-clinching sack against Clemson in 2009 and a 13-tackle effort in the 2010 Military Bowl.
In Saturday's 7-6 defeat of William & Mary, he secured a game-clinching fumble recovery in the final minutes. Coupled with his joyous celebration, it was a glimpse at a part of Hartsfield that isn't always easy to see.
"If he's feeling like the defense is getting controlled, he's going to step up and make a big hit," linebacker Alex Twine said. "When he steps up and makes that big hit, there's no talking to Demetrius. There's nothing. He's just going to go and do what he has to do, and he's going to make the defense better because he gets so aggressive, he gets physical. It's not laid-back Hartsfield anymore."
Most moments are a bit mellower. Twine recalled how he grew close to Hartsfield last season when, as a freshman, he would pepper the veteran with questions and found Hartsfield eager to share his knowledge.
It was much the same way during summer workouts this year. Rather than boisterously point out miscues, he would take many of the Terps' incoming linebackers aside to point out ways to improve.
It is a comfortable method of doing business, but not the only way for a player named a captain in April. Coaches have urged Hartsfield not necessarily to be louder than normal but to be vigilant about the habits of those around him.
"He's not one of those guys, and he doesn't have to be," coach Randy Edsall said. "I told him he doesn't have to be confrontational. But when you see it's not right or you see a guy's not working, you have to go up and tell him. You can't just walk away. You're just not in that position."
He is in position, however, to make a great impact on the course Maryland's defense takes. A year ago, the Terps surrendered 500 yards on four occasions as they dealt with injuries and ineffective play. Hartsfield missed three full games and about a half of a fourth in October with an ankle sprain, then returned with four straight double-digit tackle days at the end of a lost season.