NOSARA, Costa Rica — A powerful, magnitude-7.6 earthquake shook Costa Rica and a wide swath of Central America on Wednesday, collapsing some houses, blocking highways and causing panic, but officials said there only was one reported death, from a heart attack.
The U.S. Geological Survey said the quake was centered about 38 miles from the town of Liberia. The magnitude initially was estimated at 7.9 but was quickly downgraded. Local residents said it shook for about 30 seconds.
While officials canceled an initial tsunami warning, local police supervisor Jose Angel Gomez said about 5,000 people — 80 percent of the population — had been evacuated from coastal towns in the Samara district west of the quake's center several hours after the quake struck at 8:42 a.m.
He said water was receding from the shore.
One man died of a heart attack caused by fright, said Carlos Miranda, a Red Cross worker in Liberia, but there were no reports of deaths directly caused by the quake.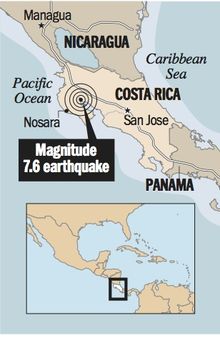 A preliminary review revealed some structural damage near the epicenter, but no deaths or injuries, said Douglas Salgado, a geographer with Costa Rica's National Commission of Risk Prevention and Emergency Attention.
The review also uncovered a landslide on the main highway that connects the capital of San Jose to the Pacific coast city of Puntarenas, Mr. Salgado said.
Hotels and other structures suffered cracks in walls and saw items knocked off shelves.
"There's chaos in San Jose because it was a strong earthquake of long duration," Mr. Salgado said. "It was pretty strong and caused collective chaos."
The quake also was felt in neighboring Nicaragua, which canceled schools in some areas, and in Panama.
In the town of Hojancha a few miles from the epicenter, city official Kenia Campos said the quake knocked down some houses and landslides blocked several roads.
"So far, we don't have victims," she said. "People were really scared. … We have had moderate quakes but an earthquake [this strong] hadn't happened in more than 50 years."
Wednesday's quake occurred in a seismically active zone where the Pacific tectonic plate is diving beneath Central America.
"All along the Pacific coast of Central America, you can expect fairly big earthquakes," said seismologist Daniel McNamara of the U.S. Geological Survey.
The quake was fairly deep — 25 miles below the surface. Deeper events tend to be less damaging than ones closer to the surface, but more widely felt.
"If it was a shallower event, it would be a significantly higher hazard," Mr. McNamara said.