TORONTO — Sundance is the festival for low-budget filmmaking. Cannes and Venice are glitzy industry showplaces. The Toronto International Film Festival is both of those and everything in between, but mostly, it's a place for ordinary cinema lovers to see a lot of great movies.
Toronto's status as a festival for the people is confirmed by this year's opening-night film Thursday. The festival used to begin with a small Canadian film as a nod to local crowds that have made it one of the world's biggest and most-prestigious cinema showcases.
For its 37th year, Toronto opens with a big Hollywood action film, the sci-fi tale "Looper," starring Bruce Willis, Joseph Gordon-Levitt and Emily Blunt.
Festival co-director Cameron Bailey said "Looper" works on "both the action level and the ideas level," making it an ideal choice for festival audiences wanting something smart and entertaining. And with "Looper" hitting theaters Sept. 28, less than two weeks after the 11-day festival ends, the film highlights the value of Toronto as a launching place for Hollywood's fall and holiday releases.
Written and directed by Rian Johnson ("Brick"), "Looper" casts Mr. Gordon-Levitt as a hit man who kills people sent back in time from 30 years in the future. He winds up on the run after his latest victim — his own future self (Mr. Willis) — escapes and tries to alter events.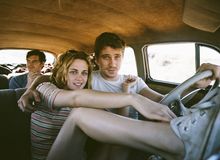 "I was absolutely floored by it," said Miss Blunt, who's not a science-fiction fan but eagerly signed on after reading Mr. Johnson's screenplay. "It's just an incredibly unique, fast-paced, complex movie, and you sort of pat yourself on the back for actually keeping up with it as you're reading."
Other highlights among Toronto's 289 feature-length films include director Joe Wright's Leo Tolstoy saga "Anna Karenina," starring Keira Knightley and Jude Law; Andy and Lana Wachowski and Tom Tykwer's "Cloud Atlas," a story spanning centuries and featuring an ensemble led by Tom Hanks and Halle Berry; Paul Thomas Anderson's cult drama "The Master," starring Joaquin Phoenix, Amy Adams and Philip Seymour Hoffman; Robert Redford's manhunt tale "The Company You Keep," in which he stars with Shia LaBeouf and Susan Sarandon; and Walter Salles' Jack Kerouac adaptation "On the Road," with Kristen Stewart, Sam Riley and Garrett Hedlund.
Ben Affleck, who premiered his bank-heist hit "The Town" at Toronto in 2010, returns with another film he directed and stars in, the Iranian hostage thriller "Argo." Mr. Affleck stars in a second Toronto film, Terrence Malick's romantic rumination "To the Wonder," which also features Rachel McAdams and Javier Bardem.
Set amid the 1979 hostage crisis in Tehran, "Argo" is based on the true story of six Americans who escaped the takeover of the U.S. Embassy and took refuge with Canadian diplomats, whose government worked with the CIA to smuggle them out of Iran disguised as location scouts for a fake Hollywood movie.
"One of the things about it that makes it so relevant for the Toronto festival is how it shows the cooperation between America and Canada," Mr. Affleck said. "This event caused this eruption of appreciation by America for Canada."
Among other Toronto titles are Adam Sandler's animated monster comedy "Hotel Transylvania"; Jake Gyllenhaal and Michael Pena's L.A. cop drama "End of Watch"; Bill Murray as Franklin Roosevelt in "Hyde Park on the Hudson"; the teen tale "The Perks of Being a Wallflower," with Emma Watson and Logan Lerman; the crime comedy "Seven Psychopaths," featuring Colin Farrell, Woody Harrelson, Sam Rockwell and Christopher Walken; and Dustin Hoffman's directing debut, "Quartet," with Maggie Smith in the story of a group of aging opera stars.
The Toronto festival marks the first public appearance for Miss Stewart since news broke that she cheated on boyfriend and "Twilight" co-star Robert Pattinson by hooking up with her "Snow White and the Huntsman" director Rupert Sanders.
Festival co-director Mr. Bailey said Toronto organizers want the story to be Miss Stewart's performance in "On the Road" — not her personal life.
"The thing we always want to do when something like this happens is to keep the focus on the film," Mr. Bailey said. "I think she does great work, and it's really a breakout role for her, so we hope whoever's in the theater that night recognizes that."
"The Master" star Mr. Phoenix also faces scrutiny, the film marking his return to the screen after a fake retirement in which he claimed he was becoming a rap singer. His supposed career shift was chronicled in a mock documentary by brother-in-law Casey Affleck, the film depicting disturbingly erratic behavior from Mr. Phoenix, which they later said was all an act.