ANALYSIS/OPINION:
Playing quarterback in the NFL used to require the football equivalent of a Class A license. Either that or you had to be certified to operate heavy machinery — a crane, say. But times certainly have changed. Come Week 1, five teams, the Washington Redskins among them, will place their offensive fate in the hands of a rookie QB, a guy who was drafted just a few months ago. If you wanted to call this "mind-blowing," I wouldn't object.
After all, quarterback is the most complicated — not to mention most important — position on the field. Mastering it can take years, and many QBs never come close to reaching the advanced-degree level. But that hasn't stopped the Redskins from handing the job to Robert Griffin III, whose last birthday was his 22nd. The Indianapolis Colts (Andrew Luck), Miami Dolphins (Ryan Tannehill), Cleveland Browns (Brandon Weeden) and Seattle Seahawks (Russell Wilson) have taken the same plunge, for richer or for poorer.
And let's be clear here: None of these clubs has been forced to start a rookie because of an injury to a veteran or some other calamity. They're doing it willingly. They're doing it because they're convinced these first-year QBs are up to the task of directing an NFL offense (and that such experience will only fast-track their development).
Have there ever been this many rookie starting quarterbacks in the opening week? Understand: I'm not talking about QBs who spent a year or more on the practice squad — or holding a clipboard — before finally getting their chance. I'm not talking about QBs who got some training in Canada or some other pro league before finding employment in the NFL. I'm not talking about those kinds of "rookies." I'm talking about fresh-out-of-college rookies. It's extraordinary, it truly is.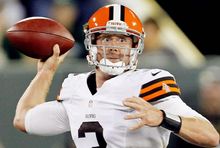 It may also be the new normal. Here's Dan Reeves, the four-time Super Bowl coach, on the subject: "The colleges are becoming more adept at throwing the football. I think that's the reason you have the [Joe] Flaccos coming in, and [Mark] Sanchez with the Jets and Matt Ryan with Atlanta, and they're lighting it up in their first year because they're exposed to the passing game [earlier] and a lot of people are using that wide-open set. You never used to hear of that. Peyton Manning, John Elway — they didn't light it up in their first year like some of these quarterbacks are doing now."
Reeves knows whereof he speaks. He coached Elway as a rookie in Denver in 1983, when John went 4-6 as a starter and completed 47.5 percent of his passes.
Manning, meanwhile, threw 28 interceptions in '98 with the Colts, the most ever by a first-year QB.
That was pretty much to be expected, too. From 1960 through 1999, only four rookie quarterbacks — true rookies, not "bookkeeping rookies" — attempted 175 or more passes and posted a rating of 75 or higher. The short list: Greg Cook, 1969 Cincinnati Bengals; Jim McMahon, '82 Chicago Bears; Dan Marino, '83 Dolphins; and Charlie Batch, '98 Detroit Lions.
In the dozen seasons since, six rookie QBs have done it: Ben Roethlisberger (Pittsburgh) in 2004, Ryan and Flacco (Baltimore) in '08, Sam Bradford (St. Louis) two years ago and Cam Newton (Carolina) and Andy Dalton (Cincinnati) last year. On top of that, Roethlisberger, Ryan, Flacco and Dalton guided their teams to the playoffs, and two reached the conference title game (Ben and Joe) — as Sanchez also did in his first season (though his rating was only 63).
Which isn't to say there's that much of a gap between quarterbacks then (that is, pre-2000) and now. As Reeves points out, "John had been in kind of a pro offense in high school and college" — and was the son of a college coach to boot. "It's just different now," he says. "The defenses are much different. When John first came in, the defense could do a lot more than what these quarterbacks are facing now. Nowadays you can't do anything to the receiver after 5 yards. You can't touch him. So receivers are getting more open now. And these spread offenses are putting a lot of pressure on defenses."
Still, it's a big departure from the NFL of old — or even the turn-of-the-millenium NFL. Consider: The past seven quarterbacks who went in the top five of the draft have started in Week 1 as rookies (Ryan, Sanchez, Detroit's Matthew Stafford, Bradford, Newton, Luck and Griffin). Only one, on the other hand, of the nine top-five QBs before that was installed as the starter right away (David Carr with expansion Houston in 2002).
"You plug a young guy in [too] early, and he's not ready, you can destroy that player," Bill Parcells says. "You don't want to throw him to the wolves and [have] the wolves bite so hard that he loses his self-confidence — or the fans or the press get on him, and [the experience] really serves as a deterrent to progress rather than helping progress.
"If I'd put [Tony] Romo in in his first year [in Dallas] and just let him play, he would have been out of football in a year and a half. He was just a gunslinger. He was indiscriminate. And he would do [stuff] that you couldn't you know, you just can't succeed doing it. But after a year or two of practicing in the preseason, getting his [reps], you could see he had a real good chance to come along. But when he first came there, I mean, he was like off the reservation. And he was just going to hurt you more than he was going to help you."
For the longest time, that tended to be the philosophy with rookie quarterbacks (with rare exceptions): You ease them into the lineup so as not to damage their psyches. Maybe you start them at some point in their first season (e.g. Eli Manning and Michael Vick), or maybe you don't (e.g. Philip Rivers and Carson Palmer). But the main thing was, you didn't want to force-feed them and ask them to do something they weren't ready to do, especially with so much invested in them.