Heath Shuler knew what he had to say. It was the fall of 1994, and Washington Redskins coach Norv Turner was giving the touted rookie quarterback the chance to make his NFL debut against the defending Super Bowl-champion Dallas Cowboys.
"Of course, every competitive person says, 'Hey I'm ready to go, let's go, I'm ready. Put me in a game, coach, I'm ready to play,' " Shuler said.
He wasn't ready to play. Not then and not really at any point during a four-year career that never lived up to the hype of his being the third overall draft pick. Robert Griffin III is saddled with that kind of attention now.
Shuler, who was considered the next star for a franchise that won three titles with three different quarterbacks turned out to be a bust: 22 starts, 15 touchdowns and plenty of wondering how it all went wrong.
"I can't blame it on any individual," said Shuler, who's retiring as a Democratic congressman from North Carolina after three terms. "I just blame it on myself."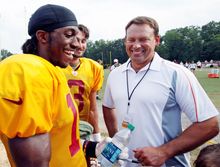 There's plenty of blame to go around.
Reaching for a star
Just three seasons removed from their last Super Bowl victory, the Redskins were intent on finding a young quarterback to pair with new coach Norv Turner. Starring at Tennessee, Shuler finished second in the Heisman Trophy voting and was considered the top pro prospect.
Then-Redskins general manager Charley Casserly conceded Shuler was more of a prospect than a finished product, a characterization the quarterback agreed with. But the Redskins made him the No. 3 pick in the 1994 draft.
"We forced taking a young quarterback high in the draft," Casserly said. "He was a reach at 3. He was more of a later first-round pick as a lot of these guys are being taken now. But if you make the decision, which we did, to take a quarterback, then you're going to have to take him regardless of where you're picking."
Problem is, as the third pick of a team not far removed from glory years, Shuler had the expectations lofted onto his 6-foot-2, 216-pound frame. Meanwhile, there wasn't much expected out of seventh-rounder Gus Frerotte.
Between the draft and training camp, Shuler felt like something of a celebrity around Washington but tried to stay focused.
"Managing expectations is virtually impossible," said then-quarterbacks coach Cam Cameron, now the Baltimore Ravens' offensive coordinator. "And I think it goes with the territory. The quarterbacks know it and they relish it."
'Just another guy'
Shuler said the pressure didn't get to him until games started, but fans did wonder why he wasn't in training camp on time.