No one could blame Mike Shanahan for turning green Sunday afternoon when he sees the New Orleans Saints' offense at work in the Washington Redskins' season opener. The Saints ranked first in the NFL last season in yards per game and per play; second in points per game and first in first downs. And they have a record-setting quarterback at the controls.
It's a unit worthy of jealousy.
"Every team in the National Football League would like to have what they had last year," Shanahan said.
The Redskins are striving to get close, and with Shanahan's third season as head coach about to kick off, there's belief at Redskins Park that, at the very least, they'll improve significantly.
Washington added a new franchise quarterback in Heisman Trophy winner Robert Griffin III and a high-priced free agent receiver in Pierre Garcon to inject some playmakers into an offense that ranked 20th in yards per play in 2011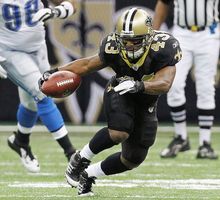 The Redskins' shiny new offense will debut Sunday against the Saints and get a first-hand measure of the gap between it and the top.
"I feel a lot more confident," offensive coordinator Kyle Shanahan said. "I think we've improved our personnel each year [since] we've gotten here. I'm excited to see these guys."
The Saints' formula encompasses scheme and personnel, Mike Shanahan said, but it begins at quarterback.
As if the Washington's aggressive trade up to draft Griffin needed more validation, Drew Brees is an example of what an elite quarterback can do for an offense. Last season, Brees set NFL single-season records with 5,476 passing yards and a 71.2 completion percentage.
"He's probably as good as there is in the game right now; makes very few mistakes," Mike Shanahan said. "He has pinpoint accuracy. He knows the strength and weakness of defenses. He does a great job of putting them in the right play at the right time, everything that you look for in a quarterback."
Brees makes players around him better, which helps explain how they had three players with at least 80 receptions last season and five with at least 50. Tight end Jimmy Graham, receivers Marques Colson and Lance Moore and running backs Darren Sproles and Pierre Thomas spread a defense's focus thin.
"Every team is going to have talented 1-2-and-3 guys, but you're talking about depth," receiver Santana Moss said. "What the Saints have, I'm not sure anybody is going to ever get to be like that when it comes to how they're stocked."
The Redskins tried during the offseason, though. They drafted Griffin and signed Garcon and veteran receiver Josh Morgan. Tight end Fred Davis is back; he was on pace to be the Redskins' leading receiver last season before he was suspended for violating the league's drug policy.
Further down the depth chart, receiver Aldrick Robinson, a sixth-round rookie in 2011, made the team this year after refining his routes and pairing them with explosive speed. Kyle Shanahan believes Leonard Hankerson, a third-round rookie last year, is back to playing as well as he was when he tore the labrum in his right hip last November.
Perhaps most comforting to Redskins coaches was the fact Anthony Armstrong, one of the two receivers who did not make the final 53-man roster, was claimed off waivers by the Miami Dolphins.