Maryland linebacker Demetrius Hartsfield wanted to move on from the Terrapins' season-opening defeat of William & Mary on Saturday as quickly as possible.
A 7-6 triumph wasn't worth boasting about. And besides, he was fully aware a trip to Temple loomed.
"We have a real big payback game next weekend," he offered, unprompted.
Truth be told, Maryland (1-0) could ply the revenge motif nearly all season. Nine of the Terps' next 10 games come against programs that dealt them a loss during a 2-10 autumn a year ago.
Yet for so many reasons, the 38-7 humbling Temple delivered in College Park was perhaps the lowest point in a season with no shortage of candidates.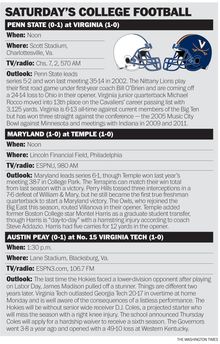 The Owls led 31-0 at halftime. They scored touchdowns on four of their first 25 plays. Tailback Bernard Pierce rushed for five touchdowns.
Maryland's 139-game streak without having a punt blocked, which dated to 1999, abruptly ended in the first quarter.
And unlike when Maryland squandered multitouchdown leads in the second half against Clemson (then a top-10 team) and N.C. State (a perfect denouement for the finale of a lousy season), there was no sense of inevitable ruin. At the time, Maryland was 1-1 and nearly rallied past West Virginia the previous week.
Temple earned a much more decisive result and provided a true preview of what was to come during the rest of coach Randy Edsall's first season.
"I remember they kicked the hell out of us," defensive lineman A.J. Francis said. "They beat us like we stole something. It really [ticked] me off. It was one of the worst [butt]-kickings I've had in my career."
In retrospect, the remarkable part of the Owls' dominance was the simplicity it was based upon. Temple attempted only nine passes, completing all of them, and generally relied on strength up front to maul Maryland.
It worked. The Owls outgained Maryland on the ground 285-45 and permitted the Terps to cross midfield twice.
"That and N.C. State were my two lowlights of the season as far as memories go," Hartsfield said. "They kicked our tails. Coach Edsall told us last year they were a very physical team. He told us we had to be ready to play. I'm not going to say we didn't take them serious, because a lot of guys did, but we just didn't play like we should have."
In hindsight, it's easy to pinpoint the loss as the earliest obvious sign of a crumbling season. The Terps would beat Towson the next week before dropping their last eight. Maryland would draw more than 40,000 to 54,000-seat Byrd Stadium just once in its last four home games.
Yet in the moment, there was anguish as well.