ANALYSIS/OPINION:
Earning the No. 1 pick in the draft is not something a team should aspire to, because you have to be pretty bad to get it. Fortunately for most teams, it is a rarity.
It also isn't a sure thing.
---
SEE ALSO: Bryce Harper, Stephen Strasburg give Nationals Opening Day win over Marlins
---
The Redskins haven't gone first since 1962. The Wizards have gone first twice since 2001. They got Kwame Brown and John Wall. One whiff, one apparent hit. The Caps have gone first three times in their history and they got Greg Joly, Rick Green and Alex Ovechkin. Whiff, good hit, great hit.
The Nationals went back to back at the top in 2009 and 2010. They took Stephen Strasburg and Bryce Harper. We're going to go out on a real limb here and make a major declaration: outstanding hit and outstanding hit.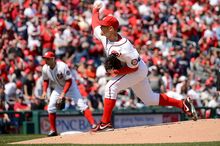 Washington opened its 2013 season Monday at Nationals Park with a 2-0 victory over the Miami Marlins. No offense to all the others who took part. The day was about The Top Pick Twins and all about The Top Pick Twins.
---
SEE ALSO: FENNO: Clint Romesha's quiet Opening Day tribute a reminder of true heroism
---
Strasburg went seven efficient innings (and probably should have gone one more). The Nats' two runs were courtesy of Harper home runs, in his first and second at-bats.
They showed the impressive gifts that made them easy choices as the top pick in their drafts. More important, they showed a level of maturity that belies their relative inexperience.
"What we saw today was Harper taking good, disciplined at-bats and a couple of home runs were the result," Nats shortstop Ian Desmond said. "What we saw was Strasburg being very disciplined on the mound, pitching to contact, throwing strikes. What we saw was seven innings, 85 pitches [actually 80], a great job.
"I think," Desmond continued, "they're both just scratching the surface. I think they have a lot more epic things in them, I'd guess you'd say."
Harper is only 20. He's the reigning National League Rookie of the Year and he put up numbers in spring training that appear made up. He hit .478. Every time he comes up, every single time, fans will keep their eyes glued. No telling how far it will go, how hard it will be hit. Make your projections for him as absurd as you'd like. He's likely to deliver.
Yes, he's that good.
"The kid's locked in," said Ricky Nolasco, who pitched pretty well himself Monday for the Marlins. "After the spring he's had, he's seeing the ball really well and he's not missing those mistakes. I didn't make plus pitches to him and he didn't miss them. That's what good hitters do."
What good pitchers do is learn, even when they have dominating stuff like Strasburg. The 24-year-old set a very high bar when he debuted in June of 2010, striking out 14 Pirates in a 5-2 victory.
As dazzling as that game was, what he did to the Marlins may have been more impressive. Juan Pierre led off with a base hit. Strasburg retired the next 19 hitters. He only struck out three. He didn't try to overpower the Marlins. He used his expansive repertoire to keep them off balance.