The American ambassador in Azerbaijan is raising an alarm over the government's closure of a U.S.-funded university dedicated to democracy and human rights in a Central Asian nation widely denounced for crushing political opposition.
Ambassador Richard Morningstar on Thursday criticized the government after learning of reports that authorities shut down the Free Thought University in the capital, Baku.
"I believe that respect for peaceful protests, independent and transparent courts and government engagement with citizens especially its young citizens to address their legitimate concerns are the best and most effective ways democratic governments can secure their fundamental stability," he told students and administrators after prosecutors raided their institution Wednesday.
Authorities arrived at the university without warning, confiscated documents and sealed its doors, the university said on Facebook.
Prosecutors denied they shut the university, insisting they only seized material related to an investigation into the university's connection to a youth group called "Be" "Ol!" in the Azeri language. The group established the university in 2009 with funding from the U.S. Embassy, the U.S. Agency for International Development and the British Embassy.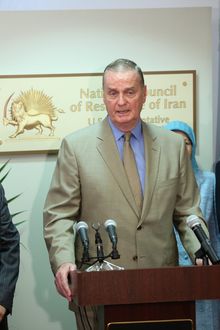 Some observers believe the raid is part of a broader government campaign against opposition groups, as President Ilham Aliyev prepares to run for a third term in an Oct. 15 election. Mr. Aliyev took over the presidency from his late father, Heydar Aliyev, in disputed elections in 2003. The father was deputy chairman of Azerbaijan's secret police when the nation was part of the Soviet Union.
The State Department says the most serious human rights violations in Azerbaijan are "restrictions on freedom of expression, assembly and association."
A long struggle
John Bolton, the fiery conservative U.N. ambassador under President George W. Bush, rarely has a good word for the liberal Obama administration, but Thursday he praised former Secretary of State Hillary Rodham Clinton.
Mr. Bolton said Mrs. Clinton "deserves a great deal of credit" for removing the Iranian resistance from the U.S. list of terrorist groups and "rectifying a mistake that was made and continued in the past."
President Clinton put the National Council of Resistance of Iran on the black list in 1997 to meet a key demand of the Iranian regime as a prerequisite for any negotiations. Mr. Bush kept the dissidents on the list, but the Obama administration removed them under pressure by a federal court that found the organization to be a legitimate opposition and not a terrorist group.
Mr. Bolton and other U.S. supporters joined Iranian exiles to celebrate the reopening of a Washington office, which was closed 10 years ago after the terrorist designation.
"The United States must stand with the Iranian people as they stand for liberty," said Soona Samsami, the resistance representative to the United States.
She predicted Iran's theocratic regime will fail because of internal struggles among the rulers and an economy in "shambles as a result of decades of mismanagement and robbery of national wealth by the mullahs."
James Jones, a former national security adviser to President Obama, said the resistance stands for the "restoration of democracy and the rule of law in the wonderful country of Iran, where the people deserve so much better than they're getting."