AUGUSTA, Ga. — Spain's Sergio Garcia brought some late star-power to the top of the leaderboard, joining little-known Australian Marc Leishman as the co-leader at the 77th Masters Tournament on Thursday.
Leishman, off in the ninth group of the day, held the lead at 6-under 66 until Garcia, in the sixth-to-last group, matched him.
Dustin Johnson was tied for the lead before a bogey on No. 17 dropped him to 67.
Golfers at 68 are Fred Couples, David Lynn, Rickie Fowler, Trevor Immelman, Matt Kuchar and Garcia's countryman, Gonzalo Fernandez-Castano.
One remarkable story was the play of 14-year-old Tianlang Guan of China, the youngest participant in tournament history. Guan, who played in the same group as two-time Masters champion Ben Crenshaw, birdied the 18th hole to finish at 73, beating 38 players in the field.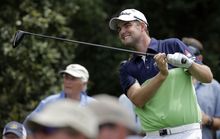 "He made a believer out of me today," said Crenshaw's caddie, Carl Jackson, who is working his 52nd Masters. "It was like Ben said, 'He played like a savvy, old veteran.' He's gutsy. He has no fear. I think tomorrow will be better. Every round is a learning curve and he'll pick it up quick."
On a cool and dry day, Garcia and Leishman stole the thunder from Tiger Woods (70), Phil Mickelson (71), Rory McIlroy (72) and Bubba Watson (75). Watson's round was the highest by a defending Masters champion since 2007 when Mickelson shot 76.
Mickelson was not happy about the soft greens, which made them slow to putt. He had said as much in an interview Tuesday but was surprised tournament officials didn't speed them up in the first round.
"I don't get it — they are soft and slow and consequently we have 45 players at par or better," he said.
Twelve players shot in the 60s and 33 were under par.
"This was not the normal Augusta National," Mickelson said. "When we have soft conditions like this, the subtleties of the course don't come out and the difficulties don't come out and everybody is able to get at pins whether you have a 5-iron or a 9-iron.
"Everything is stopping [on the greens]. That's why we have so many people shooting under par that we haven't talked about prior to the tournament."
Garcia, playing in his 15th Masters, matched his career low at Augusta National, never one of his favorite courses.
He is a co-leader a year after he doubted his ability to win a major championship. After the third round of the 2012 Masters, he said, "In 13 years, I've come to the conclusion that I need to play for second or third place" in majors.
Asked about that comment Thursday, the 33-year-old Garcia said he had been frustrated after his 75 in the third round of last year's Masters and said his words "probably came out wrong. I know what I meant."