AUGUSTA, Ga. — Brandt Snedeker has taken that walk up the 18th fairway with a Masters Tournament champion. Sunday, he fully expects to be the one slipping on a green jacket, not his playing partner.
Snedeker, who struggled while playing in the final pairing of the 2008 Masters with winner Trevor Immelman, said he had "no clue" what he was doing then. He does now.
"It's what I've worked my whole life for tomorrow," said Snedeker, who has won twice in the past six-plus months, including a victory in the Tour Championship, where he picked up a $10 million bonus for winning the FedEx Cup.
---
SEE ALSO: Masters 2013: Tee times, pairings for Sunday's final round
---
"I've spent 32 years of my life getting ready for tomorrow and it's all been a learning process and I am completely, 100 percent sure that I'm ready to handle no matter what happens tomorrow," he said.
Snedeker shot 3-under-par 69 on Saturday to reach 7-under-par 209. Minutes later, 2009 Masters champion Angel Cabrera rolled in a birdie on the 18th hole to tie him, matching Snedeker's 69.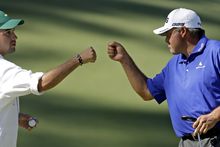 Snedeker and Cabrera will go off in the final pairing Sunday at 2:40 p.m.
Snedeker, who closed with 77 in the 2008 Masters and tied for third place, couldn't have been much bolder in his postround remarks about his expectations for the final round.
"I'm going to be disappointed if I don't win, period," he said. "I'm not here to get a good finish. I'm not here to finish top-five. I'm here to win and that's all I'm going to be focused on tomorrow. I realize what I have to do to do that and I'm going to do everything I can to make sure that that happens."
To do that, the former Vanderbilt star will have to fight off a savvy former Masters champion from Argentina and a trio of Australians who will be trying to bring their homeland its first Masters title.
Cabrera has already proven he can win at Augusta National, beating Kenny Perry and Chad Campbell in a sudden-death playoff four years ago. Cabrera also won the U.S. Open in 2007.
"I've been waiting for this moment and I can't let the opportunity go to waste," said Cabrera, who at age 43 is 11 years older than Snedeker. "To win two green jackets, I've got to take advantage of the opportunity."
The Australian trio giving Snedeker and Cabrera chase is led by Adam Scott, who shot 69 and is one shot off the lead.
Jason Day, who shared second place in the 2011 Masters with Scott, is tied for fourth place – two shots off the lead – with Marc Leishman, another Aussie. Day shot 73 and Leishman, who is trying to become only the second player since 1984 to win after being the first-round leader or co-leader, had 72.
In all, 11 players are within five shots of the lead, including four-time champion Tiger Woods, who is four shots back after shooting 70. Woods would be two shots back if not for the two-stroke penalty he incurred Saturday morning for an illegal drop on the 15th hole Friday.
Cabrera has not won on the PGA Tour since the 2009 Masters. However, he won the Open de Argentina in mid-December on the strength of a final-round 64.