MIAMI — There were four television sets in the visitors' clubhouse at Marlins Park on Monday, but only one had its volume turned up high. From its speakers came the harrowing news of two explosions at the finish line of the Boston Marathon.
As the Washington Nationals' players filtered in for their 7 p.m. game against the Miami Marlins, they crowded around those televisions and stared at the pictures being played back. Some moved on after spending a few minutes watching, others stayed. More returned multiple times. No matter where they were in the clubhouse, they could hear the words as they were broadcast.
They shook their heads. Some sighed. The tragedy of such an attack sunk in on them not necessarily as athletes, but as humans.
---
SEE ALSO: LANCASTER: Sports nightmare meets reality with Boston Marathon attack
---
"It's scary," said right fielder Jayson Werth.
Werth was a minor leaguer making the cross-country drive home from outside Washington on 9/11. He passed the sign for Shanksville, Pa., on the highway just as the radio brought the news that Flight 93 had crashed there.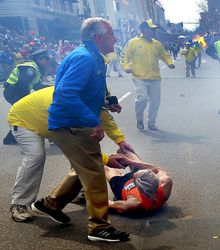 As the televisions blared Monday, Werth wondered aloud the same question many across the country were asking.
"I mean, why?" he said. "Why?
"It's a faceless crime. It's a nameless crime. It's just cowards. It's brutal."
Two explosions occurred near the finish line of the Boston Marathon at 2:50 p.m. on Monday. Another device was found and purposely detonated by the police, according to The Boston Globe.
Just before the Nationals took the field for their game in Miami, reports said at least two people had died and dozens were injured.
It was news that seemed to affect all who heard it, and words of support began pouring in for the city, the runners and the victims. Redskins quarterback Robert Griffin III was among those who reflected on the tragedy, tweeting that he was shaking his head at "the craziness of this world."
It also hit home with New York Islanders forward Keith Aucoin, a Waltham, Mass., native whose mother works as a nurse at a Boston hospital.
"She was kind of nervous," said Aucoin, a former Washington Capital, who reached his mother after a brief delay. "She was telling me that she loved me and giving her speech in case she didn't get out of the city. … She said it was a pretty crazy scene down there."
For the Nationals, one of 16 major league teams that played Monday, the idea of such an attack occurring at a sporting event didn't go unnoticed.
Nationals personnel acknowledged there is a concern that professional sporting events, which draw tens of thousands of people to a central location, could be targeted for such unthinkable acts.