President Obama denounced the explosions at the finish line of the Boston Marathon and vowed to find out who is responsible and bring them to justice.
"We still do not know who did this and why," he said in a prime-time statement from the White House Brady Press Briefing Room on Monday evening. "But make no mistake, we will get to the bottom of this. We will find out who did this; we'll find out why they did this."
Any individuals or groups responsible for the "senseless" bombing, will "feel the full weight of justice," he added.
---
SEE ALSO: Obama pledges support to Boston in wake of explosions
---
Mr. Obama did not say whether the two explosions that abruptly ended the marathon and killed at least two people are terrorism-related, but Washington, D.C., and New York City were on high alert in the wake of the dual deadly bombs.
Security outside the White House was stepped up.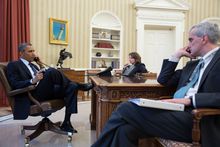 Secret Service personnel pushed members of the public across the street from the White House into Lafayette Park, and shut down Pennsylvania Avenue during the peak of spring tourism season.
---
SEE ALSO: Study: Americans fear terrorism attacks more than violent crime
---
Earlier Monday a White House official said FBI Director Robert S. Mueller III and Department of Homeland Security Secretary Janet A. Napolitano briefed Mr. Obama on the investigation and response to the explosions, including ongoing coordination between federal agencies and state and local officials.
Mr. Obama directed his administration to provide "the full resources" of the federal government to aid in the investigation and response.
"The American people will say a prayer for Boston tonight," he said.
Earlier Monday, Vice President Joseph R. Biden also offered prayers, acknowledging the explosions during a conference call with reporters on gun control. "Our prayers are with those people in Boston who have suffered injuries. I don't know how many there are," he said.
Nearly 500,000 tourists were in Boston for the annual marathon.
The Senate observed a moment of silence for the victims just before an evening vote, and Speaker John A. Boehner was scheduled to lead a moment of silence during a scheduled House vote later Monday.
"Words cannot begin to express our sorrow for the families who are grieving so suddenly right now," Mr. Boehner, Ohio Republican, said in a statement that also thanked law enforcement, other professionals and "good Samaritans" who prevented further loss of life.
"This is a terrible day for all Americans, but we will carry on in the American spirit, and come together with grace and strength," he said.
⦁ Stephen Dinan and Dave Boyer contributed to this report.