ANALYSIS/OPINION:
The Capitals, after a miserable 2-8-1 start to their season, are playing as well as anyone in the NHL right now. A seven-game winning streak going into Tuesday night's game against Toronto has the Caps in strong playoff position, something that seemed unlikely not long ago.
Baseball season has started. Despite a bumpy weekend against Atlanta, the Nationals have their fans dreaming of another postseason in D.C.
Next week, the NFL conducts its annual draft. Redskins fans are eager to see who the team can grab in the second round with their first selection as Washington tries to improve a team that made the playoffs last season.
Right now, I'm having a hard time mustering any interest in any of it and I suspect I'm not alone.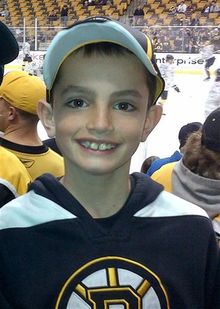 Monday's attack at the Boston Marathon served as another kick in the stomach, a reminder we can never get too comfortable. Any time. Anywhere.
It's hard to do anything but sit here and cry, thinking about 8-year-old Martin Richard. He was hanging out with his family, cheering on the runners near the finish line. Now he's dead, along with two others. Scores are injured. Families are devastated.
And for what? Why? Those are questions that simply can't be answered. At this point, all I can do besides cry is sit here and wonder what's next?
It would be so wonderful to be able to say nothing is next.
We know better. We've learned too many times in the past 20 or so years, something is always next.
While we're crying for Martin Richard and others killed and injured Monday, so many others come to mind and bring more tears. All those beautiful children in Newtown. People in Aurora who only wanted to see a movie. Almost 3,000 killed on Sept. 11, 2001. Columbine High School students. The victims of the Oklahoma City bombing.
The worst, on a strictly personal level — the 32 killed and others wounded at Virginia Tech on April 16, 2007. That's right, six years ago Tuesday.
My children were students there, one in grad school and one an undergrad. I was able to reach my son fairly fast. I remember the panic that grew inside me as I tried for an hour or so to reach my daughter and the relief I felt when I did.
I also remember becoming physically ill reading an intense story in The New Yorker magazine. It talked about the rescue workers who needed therapy after hearing the constant ringing of cellphones as they tended to the wounded and the dead. Frantic parents, desperately trying to reach their children.
So many people I love were so profoundly affected by events of that day. My children each lost friends, including one young man who graduated from high school with my son.