The deadly bombs that struck the Boston Marathon on Monday were fashioned from large pressure cookers packed with nails and ball bearings and hidden in black bags on the ground, said FBI investigators and a U.S. official briefed on the investigation.
The construction of the devices, which killed at least three and injured more than 170, many of them gravely, showed signs of "training or knowledge," the official said.
In addition, authorities told The Associated Press that they recovered a piece of circuit board they believe was part of one of the explosive devices, and also found the lid of a pressure cooker that apparently was catapulted onto the roof of a nearby building.
---
SEE ALSO: Ex-bin Laden hunter says Boston bombing shows signs of sophistication, training
---
A task force of federal, state and local law enforcement authorities ramped up a huge investigation Tuesday, but officials said they had no suspects or motive. Federal authorities cleared the 20-year-old Saudi national who briefly was considered a "person of interest."
Led by FBI bomb technicians, authorities are working painstakingly to rebuild the two bombs in an effort to determine their origin.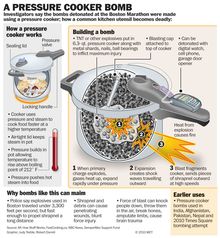 "This will be a worldwide investigation," Richard DesLauriers, special agent in charge of the FBI's Boston field office, said at a news conference. He added that agents will go "wherever the leads take us."
---
SEE ALSO: Third Boston victim was BU student from China
---
He said numerous fragments of what they suspect were pressure cookers and pieces of dark-colored nylon bags found at the blast sites have been sent to FBI bomb technicians in Quantico, Va., for examination.
A former FBI agent who led the hunt for al Qaeda mastermind Osama bin Laden said the bombing showed a "level of sophistication or training" in the construction and placement of the weapons that could complicate the identification of the culprits.
Jack L. Cloonan, who led the FBI's bin Laden unit from 1996 to 2002, said the bureau's evidence response is painstakingly sifting the rubble of the twin blasts for fragments of the devices. Even an exploded bomb can yield evidence, telltale signs of the device's construction and materials that indicate its maker, Mr. Cloonan said.
The FBI on Tuesday said there were two devices and both detonated, dismissing early reports of other devices being discovered at the scene or around the city. The Department of Homeland Security said that while there is no indication to suggest that the events in Boston were part of a broader plot, "out of an abundance of caution," the department continues to keep in place "enhanced security measures at transportation hubs, utilizing measures both seen and unseen."
More than 24 hours after the attack, the Pakistani Taliban said in a Tuesday statement that they did not conduct the bombing, although they welcomed it.
Islamic extremist groups claimed responsibility for the last two bombing attempts on U.S. soil within 72 hours, said Ben Venzke, CEO of IntelCenter, which monitors and analyzes terrorist communications.
The Pakistani Taliban claimed the bungled 2010 attempted bombing of Times Square by Faisal Shahzad in less than 24 hours via video. Al Qaeda in the Arabian Peninsula claimed the 2009 Christmas underwear bombing attempt by Umar Farouk Abdulmutallab within 72 hours in a written statement.
Domestic terrorists such as anarchist or anti-government militia groups tend not to take credit.
Oklahoma City bomber Timothy McVeigh issued no claim for his attack. Atlanta Olympics bomber Eric Rudolph mailed claims to media organizations, but in the name of a fictitious group.