We were going to start this week's column with a preview of the coming Anand-Carlsen world title match when word came over the weekend of the passing of New York GM Robert Byrne at the age of 84. One of the best American players of the immediate postwar period, Byrne won or shared two national titles, played on multiple Olympiad teams and, in his best career result, qualified for the world championship candidates cycle with a superb third-place finish at the 1973 Leningrad internal behind Anatoly Karpov and Victor Korchnoi.
But Byrne whose brother Donald was also an excellent player is perhaps best remembered for his longtime gig as The New York Times' chess columnist from 1972 to 2006, as well as his many articles analyzing games for Chess Life and other publications. In an era when chess news from Russia and Europe could take weeks or months to reach these shores, Byrne's Tuesday columns in The Times were mandatory reading for U.S. chess fans.
Byrne scored some notable scalps in his career, defeating the likes of Bobby Fischer, David Bronstein, Sammy Reshevsky, Vassily Smyslov and Bent Larsen. Byrne defeated the great Yugoslav GM Svetozar Gligoric in particularly fine style at the 1963 U.S. Open a tournament he won three times with an inspired and intricate combination cracking open his opponent's game.
White has a space edge from the start of the King's Indian, an edge that grows exponentially after 17. e4 Nxd5 18. cxd5 Nd4 19. Rc1 e6? (better was 19b6 20. e5 Re8) 20. e5! Nb5 (exd5?? 21. Bxd4 and the Black c-pawn is pinned) 21. Bb4 b6 22. d6.
Black tries to trade pieces to relieve the pressure, but runs into a neat tactic: 23Bc6 23. Bxc5! Bxg2 (bxc5 24. Rxc5 recovers the piece with interest) 24. Bxb6 Qb7 (White had to make sure the counter-sacrifices didn't work on 24Qxc1 25. Qxc1 Rdc8 26. d7! Rxc1 27. Rxc1 Bb7 [axb6 28. Rc8+] 28. d8=Q+ Rxd8 29. Bxd8; or 24Bxf1 25. Rxc8 Rdxc8 26. Ba5! Nxd6 27. exd6 Bb5 28. d7 Rd8 29. Bxd8) 25. Bxd8 Bxf1 26. Be7! and it turns out Gligoric's advanced bishop on f1 has no escape squares.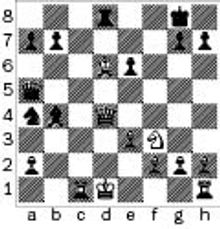 White gains a clear material edge, but Byrne shows energetic technique in bringing home the point. Black's push for counterplay with 31. b3 g5?! 32. Ng2 gxf4 33. Nxf4 Bd4 only opens up an avenue of attack to the Black king, which White's proceeds to exploit.
Thus: 35. Qd1! (heading for the kingside) Be5 36. Nd3! (d7? Bxd7 37. Qxd7?? Qf2+ allows Black to escape with a draw) Bg7 37. Nc5 Bc6 38. d7 Bd5 39. Rg4 (with the killer threat of 40. Rxg7+!) f5 40. Bf6! Kf7 (fxg4 41. Qxg4 leads to mate) 41. Rxg7+ Kxf6 42. Qd4+ e5 43. Qxd5 Kxg7 44. Qxa8, and Black resigned as the checks quickly run out on 44Qxc5 45. d8=Q Qf2+ 46. Qg2.
–
Rochelle Ballantyne, a member of the famed Brooklyn Castles championship scholastic squad and the highest rated black female player in the country, will conduct a 20-board simultaneous exhibition this Thursday at 4:30 p.m. at the THEARC in Anacostia, located at 1901 Mississippi Ave. SE. Ballantyne, 17, and headed to Stanford on a full scholarship next fall, is on track to become the country's first female African-American chess master and has already won two U.S. Girls Championship age group titles.
The U.S. Chess Center and the Washington Teachers Union are co-sponsoring the event, which will be held on the first D.C. "Chess in the Schools Day." Proceeds from the event will help fund the Chess Center's activities. For more details, call the Center at 202/ 857-4922.
–
It was a classic Cinderella story if one of the wicked stepsisters won the hand of the prince.
In its first year fielding a team, St. Louis-based Webster University is the new king of college chess, defeating traditional powerhouses University of Maryland-Baltimore County and University of Texas-Dallas to take home the President's Cup as champions of the chess Final Four in Rockville, the weekend of April 6-7.
But Webster in a story that attracted national media attention did not exactly come out of nowhere. Coach Sofia Polgar transplanted her team from Texas Tech to Webster, while recruiting four freshman grandmasters to fill out the highest-rated squad in college chess history. Webster blanked the University of Illinois 4-0 in the first round, conceded just one draw to UMBC, and bested UT-D 3-1 in the final round to claim the cup.
One of the best fights of the weekend featured UT-D GM Julio Sadorra and UMBC IM Nazi Paikidze. In a super-sharp opening, Sadorra misses a winning shot early on, and then has to win the game all over again. White comes through with an unusual piece sacrifice in the ending.