MIAMI — Ryan Zimmerman was busy with his pregame work early Wednesday afternoon, so he was not present when the clubhouse televisions flashed a debate topic on MLB Network.
The question the analysts were discussing, on the heels of Zimmerman's fourth throwing error of the season in Tuesday's 8-2 loss to the Miami Marlins, was whether it was time for the Washington Nationals to consider other options at third base.
For those who watch Zimmerman play each day, those who know the talent he possesses and what he means to their organization, it seemed a ridiculous suggestion.
"The Nationals do not need a new third baseman," general manager Mike Rizzo said a short while later, as Zimmerman fielded ground balls during batting practice. "We've got one of the best, if not the best, third basemen in all of baseball. We love the guy. He's ours. And I'm glad we have him."
Late Tuesday night, Zimmerman said he was frustrated after making those four errors in the Nationals' previous five games. His surgically repaired shoulder felt great, he said, and he could not pinpoint the reason why some of his throws were not precisely hitting the target Adam LaRoche was giving him at first base.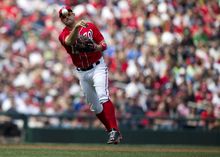 The recent string of errors has stirred up the debate over the third baseman's throwing mechanics, which have been reworked multiple times the past few years to compensate for different issues. After the October surgery, though, Zimmerman's plan was to return to a natural motion. The trainers don't think he'll be all the way there until June and the Nationals, seemingly to a man, are unconcerned by the recent errors.
"I don't think it's a mental problem right now," manager Davey Johnson said. "With the severity of that injury and the surgery in the offseason, and now throwing from a different angle, his arm is a lot stronger. It's just going to take him a little while to get comfortable and in a slot over there.
"It's always magnified if somebody makes a bad pitch after you make an error and they hit a home run. We're not picking each other up. Good teams do that. It puts more focus on a guy making an error, especially when he's coming back from some surgery. I don't have any concern."
Johnson called Zimmerman's mechanics "100 percent improved" from where they were last year, when cortisone shots numbed the area. The shots removed the pain he'd felt and allowed him to perform well offensively, but they left him dealing with the unknown when it came to throwing.
The feeling is back now, though, and he feels strong. That's part of why he reached the point Tuesday where he turned to LaRoche and shortstop Ian Desmond for advice, to see if they were seeing something he was not. From LaRoche's view, Zimmerman's errant throws have not been that far off, and he can sense that the third baseman is getting close. Desmond agreed, offering an impassioned defense of Zimmerman.
"If you think this is going to be the fall of a superstar, you've got it completely wrong," Desmond said. "You don't get to the level he's at without overcoming some things along the way. … He knows something's going on. But it's not going to derail his stardom."
LaRoche said he'd have no problem telling Zimmerman if he saw something alarming, but he also pointed to all of the runs the third baseman saves with his defense as another way he offsets those errant throws. He acknowledged, though, it's a difficult thing to advise someone on.
"You can talk hitting with somebody and we've all been through it," LaRoche said. "But we've all thrown pretty much the same since we were 6, 7 years old. He's had some issues over the last few years and had to change his mechanics a few different times so it's like a whole new deal. That takes time until it's just second nature. Right now, he still has to go through some steps in his mind.
"I don't think anybody's pulling for him more than this whole clubhouse. I really think he'll get through it."
Zimmerman knows it's an issue only he can work out. But the third baseman, who is signed through at least the 2019 season, seems to have the unquestioned support of his organization behind him.