Police on Thursday were still searching for survivors of a devastating Waco, Texas, fertilizer plant explosion that killed up to 15 and injured at least 160.
Waco Police Department Sgt. William Patrick Swanton told Fox News early Thursday morning that the death count is still unknown and could range between 5 and 15, The number of injured is upwards of 160, based on reports from three hospitals that have passed along injury updates to police.
"Five to 15 is a significant number for a town of this size," of about 2,500 residents, Sgt. Swanton said, on Fox News. Three firefighters are also missing, he said.
---
SEE ALSO: Texas Gov. Perry thanks Obama, praises responders to chemical plant explosion
---
Police are treating the explosion as a crime scene, Sgt. Swanton said.
"We're not indicating it is a crime, but we don't know, and we will work it as a crime scene," he said. Waco's mayor, he added, believes the explosion was an accident.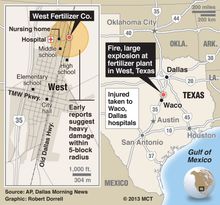 A hospital spokeswoman told Fox News early Thursday morning described most of the injuries as broken bones, lacerations and burns.
West Fertilizer Co. plant reported a fire last evening. A half hour after fire fighters responded, the plant exploded, sending a massive fireball into the air. On Thursday, police were still going "door to door, house to house, business to business, still looking for injured people that can't get out due to their injuries," Sgt. Swanton said.
The scene was described as devastating, like a war zone.
"It's a lot of devastation. I've never seen anything like this," McLennan County Sheriff Parnell McNamara told Reuters. "It looks like a war zone with all the debris."