Matt Furstenburg expects his cellphone to ring on Saturday afternoon and ease his tension. An NFL general manager, perhaps Trent Baalke of the San Francisco 49ers, will call to congratulate him on being drafted and welcome him to his new team. Furstenburg has dreamed of this scenario for so long that he knows just how he'll feel — elated, excited and relieved.
"A team is going to use a pick on someone they really like," said Furstenburg, a tight end from the University of Maryland. "That's obviously important, so I would love to be drafted."
That fairy tale isn't guaranteed, though. Few things are during the NFL draft, which runs Thursday through Saturday. That's why Furstenburg invited only a few uncles and aunts to watch on TV at his parents' house in Flemington, N.J.
"You don't want to set yourself up in case you're not drafted," he said.
In contemplating that possibility, late-round prospects such as Furstenburg attack the paradox of the NFL's selection process.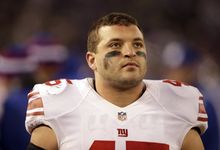 Imagine entering the workforce without the freedom to select the company you work for or where it's based. Each year, more than 250 of the NFL's most promising entry-level employees have their employer and location chosen for them. It's a prestigious honor, though. Teams prove they covet players by investing a draft pick in them. The starting salary isn't too shabby, either.
By contrast, undrafted rookies' disappointment can be offset by a significant consolation prize. They have some say in which team they join. With the help of a sharp agent, they can navigate the frenzied post-draft signing period to find the best possible opportunity to eventually make a team's 53-man roster — and earn the accompanying six-figure contract.
"That process is now more important than ever," said former Tampa Bay Buccaneers coach Jon Gruden, who's an analyst for ESPN. "It is critical that you have a process in place that allows you to compete for players that weren't drafted because there are a lot of good players left on the board that have draftable grades."
The evidence is everywhere. London Fletcher, the Washington Redskins' defensive captain, a Super Bowl champion and a four-time Pro Bowler, was not drafted out of Division III John Carroll in 1998. Dallas Cowboys quarterback Tony Romo and New York Giants receiver Victor Cruz, both Pro Bowlers, were undrafted.
Undrafted players on their original team accounted for 941 (8.4 percent) of the 11,264 player starts in the NFL last season, according to draftmetrics.com, a website that tracks NFL player acquisitions and roster composition. Redskins tight end Logan Paulsen and fullback Darrel Young, both undrafted, combined for 18 starts on the NFL's top-ranked offense in yards per play.
So while Furstenburg tries to stay calm Saturday afternoon as he wills his cellphone to ring, he can take solace in those examples and the contingency plan he and Drew Smith, his Tysons Corner-based agent, have established.
"We've talked about it for a little bit, who would fit best if I am undrafted," Furstenburg said. "Drew does a great job with picking the best team out. I think either way it's out of my control, so there's nothing I can really worry about."
Players, agents seek best fit
Henry Hynoski's left hamstring gave out about 30 yards into his 40-yard dash at the NFL scouting combine in 2011 in Indianapolis. The video, immortalized on NFL.com, is painful to watch, even from the comfort of an office chair.
The strained muscle forced a grimacing Hynoski to limp across the finish line. It also destroyed his draft hopes. One of the NFL's best fullback prospects went from a solid mid- to late-round pick to fretting about his future.