Federal prosecutors charged suspected bomber Dzhokhar Tsarnaev on Monday with conspiring to use a weapon of mass destruction in the deadly attack on the Boston Marathon, as the Obama administration opted for a civilian court with a possible death sentence over dubbing him an "enemy combatant" for investigative reasons.
Listed in serious but stable condition at Beth Israel Deaconess Medical Center in Boston and unable to speak because of a gunshot wound to the throat, Tsarnaev, 19, was accused in a criminal complaint unsealed Monday in U.S. District Court in Boston of conspiring with his brother, Tamerlan, 26, to set off two bombs near the crowded and festive marathon finish line. The elder brother died later during a frantic shootout with police.
Tsarnaev is conscious and responded to questions from authorities in writing, but the criminal complaint shed no light on the motive of the attack.
---
SEE ALSO: Attack on Boston puts Obama's anti-terrorism policy to the test
---
An affidavit in the case by FBI agent Daniel R. Genck said Dzhokhar Tsarnaev was seen using a cellphone after placing a knapsack on the ground at the second explosion site and that he was calm when the first explosion triggered chaos around him.
"Approximately 10 seconds later, an explosion occurs in the location where Bomber Two had placed his knapsack," said the affidavit. It did not indicate whether they thought it was triggered by the cellphone.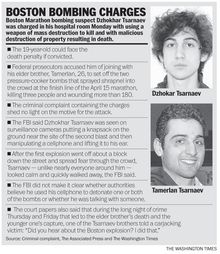 The charges were filed exactly one week after the deadly explosions, which survivors, residents and state officials remembered with a moment of silence across Boston.
---
SEE ALSO: FBI missed Tamerlan Tsarnaev's Russia trip because of misspelling, Sen. Lindsey Graham says
---
Hundreds of family and friends packed St. Joseph Church in Medford, Mass., for the funeral of a Boston Marathon bombing victim, Krystle Campbell, 29. In attendance were Massachusetts Gov. Deval Patrick and Cardinal Sean O'Malley.
Ms. Campbell was one of three people killed near the finish line, and more than 180 others were injured. A restaurant manager, she had gone to watch a friend finish the race.
It remained unclear Monday whether the younger brother was wounded by police or shot himself as FBI agents and police officers encircled and then closed in on his hiding spot in a tarp-covered boat in a Watertown, Mass., backyard. Also unresolved is whether Tamerlan Tsarnaev was killed during the ferocious gunbattle early Friday with Watertown police or died when his brother drove over him in their carjacked Mercedes-Benz sport utility vehicle. An autopsy is pending.
Civilian court vs. military tribunal
White House spokesman Jay Carney said the administration had no choice but to charge Tsarnaev in federal court. He said U.S. citizens cannot be tried by military tribunals, adding that since the 9/11 terrorist attacks in New York and Washington, the federal court system has been used to convict and incarcerate hundreds of terrorists.
Tsarnaev became a naturalized U.S. citizen on Sept. 11 last year.
But Sen. Lindsey Graham, South Carolina Republican, said the Obama administration is wrong to rule out classifying Tsarnaev as an enemy combatant, saying such a move is premature and will limit interrogation tactics that could secure vital information about the magnitude of the plot. He said Tsarnaev's access to an attorney will undermine the investigation.
Mr. Graham agrees that Tsarnaev isn't eligible for a military tribunal because he was not caught on a foreign battlefield.
He did issue a stark warning, saying lawmakers must make sure they have the strongest laws on the books for attacks on American soil.