Red River Computer Co., which resells Cisco, Apple and Dell computers to the government, is a company with only 68 employees, yet it paid its top executives more than $5 million in 2011, including $1.2 million to its CEO, Richard Bolduc.
With more than 80 percent of its revenue coming from the federal government, the source of those salaries is clear.
In March 2011, Red River sold the Census Bureau an Apple MacBook Pro for $4,648. Red River was given preference because of its status as a small business. In 2010, it sold an Apple MacBook Pro notebook computer to the Air Force for $6,584. The newest model of that computer can be purchased online from Apple Inc. for $2,799.
"That revenue is basically all coming from taxpayers in the end," said Scott H. Amey of the Project on Government Oversight.
At least 77 contractors whose revenue came nearly entirely from taxpayers each paid their top five executives more than a combined $3 million a year, a total of $633 million, The Washington Times found in an analysis of federal contracting data. Contracting disclosures exempt publicly traded companies, meaning the list represents a small fraction paying big bucks with federal dollars mostly small and unknown companies, with the largest and highest-paying, such as Lockheed Martin Corp., not counted.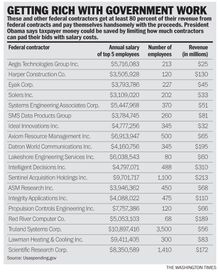 As a budget crunch has put public employees' salaries in the public eye, these business executives, whose primary source of compensation comes from the same place as government employees', remain out of the spotlight. But with the Defense Department and other departments forced to make cuts under the so-called sequester, where their contracting dollars go is relevant.
The Times examined the finances of companies that derived more than 80 percent of their income from the federal government and received at least $25 million in contracts annually.
Lakeshore Engineering Services Inc. is an 80-employee Michigan business that uses its minority-owned status to grab federal contracts and then subcontracts most of the work to other firms, according to stimulus disclosures, with revenue between $10 million and $40 million, and at least 80 percent of its revenue coming from those contracts. The company augmented its income by obtaining city contracts in Detroit after hiring a close friend of the mayor for sometimes no-show work, according to testimony in the corruption trial of former Mayor Kwame Kilpatrick.
In all, it's a relatively small business except that the more than $6 million paid to its top five executives annually place it among much higher fliers. Ketul Parikh alone made $2.4 million in 2012.
Lawman Heating and Cooling Inc., a New York company with 300 employees, paid $10 million to its top executives, most of whom are members of the Lawler family, making the Lawlers compensated more highly by taxpayer dollars than all the Cabinet secretaries combined.
Atlantic Diving Supply Inc. did $1 billion worth of business with the government in fiscal 2012 and paid $9 million to its executives, including $2.2 million to Jason Wallace. The prior year, with fewer federal contracts, its revenue from government and nongovernment sales was $350 million.
The amount per executive for which a contractor can bill the government is capped at $763,029, but that does not mean the company can't pay its officers more, drawing from its general pool of profits, including profits gleaned from government contracts.
In January 2012, the White House wrote that "Congress put a cap on how much taxpayers would reimburse these executives in the 1990s, but that cap was tied to pay levels of the nation's top private-sector CEOs and other senior executives. As a result of skyrocketing CEO pay, the tab for taxpayers has soared to unreasonable heights in the intervening years."
"Just as the government must be prudent in paying its employees, it must also not overpay contractors," it said. But shortly afterward, with the White House faulting Congress, the cap was raised from $693,951.
Two years ago, the cap was applied to all employees of defense contractors, not just the top five employees, and the budget proposed by the president this month says the administration is redoubling its efforts to lower the cap to the level of the vice president's salary, about $250,000, and to apply it to all employees of non-defense contractors as well.