Bill Clinton joins Twitter, tweets without Colbert's help
Former President Bill Clinton decided to officially join the Twitterverse Wednesday night, posting his own tweets a couple weeks after Comedy Central funny man Stephen Colbert set the account up for him.
"Excited to join @ChelseaClinton and my good friend @StephenAtHome on Twitter!" @billclinton tweeted Wednesday.
---
SEE ALSO: Clinton aims to attract youths with appearance on 'Colbert'
---
The first tweet was sent from the account Mr. Colbert set up, @PrezBillyJeff, who said, "Just spent amazing time with Colbert! Is he sane? He is cool! #cgiu."
The 42nd president's new handle had over 360,000 followers as of Thursday afternoon and Mr. Clinton is already suggested his daughter Chelsea be his micro-blogging coach, USA Today reports.
"I taught @billclinton to tweet! This is almost as exciting as the time I taught Cheney "Dance Dance Revolution," Mr. Colbert boasted on Twitter Thursday.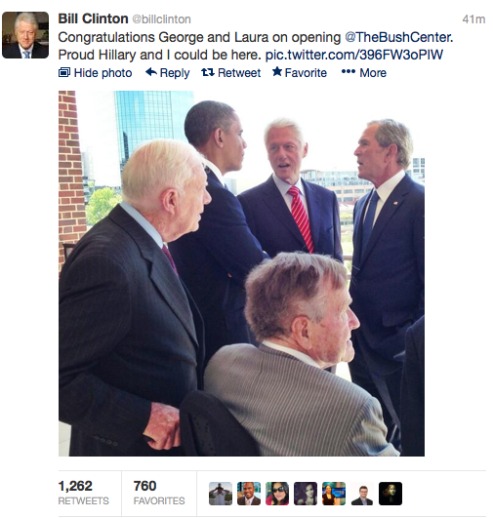 © Copyright 2013 The Washington Times, LLC. Click here for reprint permission.
About the Author
Jessica Chasmar is a continuous news writer for The Washington Times. Previously, she was part of the start-up team for The Washington Times' digital aggregation product, Times247. She can be reached at jchasmar@washingtontimes.com.
Latest Stories
Latest Blog Entries
Independent voices from the The Washington Times Communities
The Constitution: Every issue, every time. No exceptions, no excuses. And how to get from here to there.
Why can't humans just be free to be humans?
Get in the middle of all the action inside and outside the boxing ring.
Find the latest news and happening that effect those in the Washington D.C., Northern Virginia and Maryland Metro region.