Five years ago, Kyle Porter's anonymity evaporated. That tends to happen when a soccer player takes his career to a top-flight club in Germany — even an 18-year-old prospect whose only action would come in reserve matches.
Such is the nature of the world's game.
"Out there, it's eat, sleep, breathe — everything is football," the Canadian said of his two-year loan stint with FC Energie Cottbus. "Everyone looks at you. When you go to the store, they recognize you."
In the nation's capital, however, Porter can once again fly under the radar. Now 23, the midfielder signed with D.C. United following a monthlong preseason audition, earning a spot backing up wingers Chris Pontius and Nick DeLeon.
After introducing himself to United fans with four appearances off the bench early this season, Porter made his first MLS start in a 3-2 loss to the Philadelphia Union on Sunday, going the full 90 minutes on the right flank.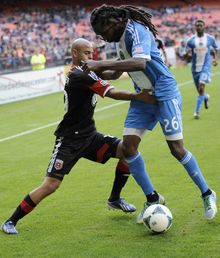 The outing showed Porter still has plenty of room to grow. But coach Ben Olsen recognizes the raw talent.
"He had some nerves early, and that maybe affected some of his crossing and things like that," Olsen said. "But he's got a lot of quality in the offensive half, and I thought he showed that at times and helped us out."
A product of the Vancouver Whitecaps' youth system, Porter returned to his native land following his time abroad. After spending a campaign with the Whitecaps but failing to sign with the club as it jumped from the second division to MLS, Porter played the past two seasons with second-tier FC Edmonton.
At 6 feet tall with speed, Porter has the tools to be a dynamic threat for a United attack that has struggled this season, scoring four goals en route to a 1-5-1 start.
"I like his game," midfielder Perry Kitchen said. "I definitely think it's getting better for him every game. He's getting more comfortable within the team, within the system. I think that's definitely showing as well. You can see he's getting more confidence to run at guys, to be dangerous, to get crosses off."
Added Pontius: "He's a very good one-on-one player, so the more we can get him isolated one-on-one on the wing, the more danger we're going to have."
It was in January, during a camp with the Canada national team, that Porter received a call from his agent informing him of United's interest. Once he discussed the opportunity with Canadian teammates Dwayne De Rosario and Dejan Jakovic, two United veterans, Porter kicked off his trial.
While he was buried on the depth chart to start the season, a chance for an increased role presented itself when DeLeon went down with a strained hamstring in late March.
With fellow newcomer Marcos Sanchez working his way back from an ankle injury, Porter could be in line for another starting nod Saturday at the Columbus Crew (2-2-3).
"Ben's been good with giving players chances, and I think I've been training well, so to get my chance means they're recognizing it," Porter said. "I knew coming into this team I had to play my role. I knew I'd get my chance, but I just had to be a little bit patient."