It was a cast of thousands on a very crowded set: For the 99th time, the White House Correspondents' Association dinner has come and gone on a tide of tuxedos, talking points and a certain license to be daring, minus the political risk.
"How do you like my new entrance music?" President Obama asked the crowd Saturday night, after arriving on the dais to the strains of rap music.
"Rush Limbaugh warned you about this — second term, baby. We're changing things around here," he said, later noting he had felt the weight of office.
---
SEE ALSO: White House Correspondents' Dinner 2013: 'Controlled demolition' with Conan, Bon Jovi and the NRA
---
"I'm not the strapping young Muslim Socialist I used to be," he observed.
Levity was therapy. Having fought their way to the ballroom through hallways and down escalators, the 2,700 guests were ready for a goof, not a gaffe.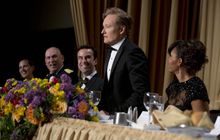 Indeed, the evening's entertainer Conan O'Brien compared the news media to a high school cafeteria, declaring that "Fox is the jocks, MSNBC the nerds, bloggers the Goths — NPR is the table for kids with peanut allergies, Al-Jazeera is the weird foreign exchange student."
---
SEE ALSO: Sarah Palin slams White House dinner as 'nerdprom'
---
He marveled over the fact that Wayne La Pierre is "merely" the executive vice president of the National Rifle Association.
"How freaking crazy do you have to be the president of the NRA?" Mr. O'Brien demanded.
That particular title belongs to one David Keene, a guest of The Washington Times for the evening.
He was most agreeable about the festivities.
"I like this event. Been to a quite a few. But I am particularly looking forward to Sunday, when I am going fishing in Virginia," Mr. Keene said.
Republican National Committee Chairman Reince Priebus — also a Times guest and the butt of several jokes — remained in good humor as well.
"I'm looking everywhere for Donald Driver to come brighten my day, but I can't find him anywhere," Mr. Priebus quipped, referring to the former Green Bay Packers' wide receiver who graced "Dancing With the Stars" for a season.
"Hollywood may think the Oscars are great. But this event is about real power, real celebrity and real politics, and there's nothing else like it," noted radio host Armstrong Williams, also a guest of The Washington Times.
A pair of star athletes agreed.