Alex Ovechkin had his doubts early on. He trusted Washington Capitals coach Adam Oates enough to try right wing, but after three games, one assist and zero goals, the face of the franchise asked to go back.
"I tell him, 'OK, Oatesy, let's put me back on the left side,'" Ovechkin recalled. "And he put me back and after that we watched the video and he tells me and he show me the video and I started to believe in it."
It was as simple as that. From then on, Ovechkin didn't entertain being anything other than a right wing, and once the puck started to go in, he finished with the most goals in the NHL (32) and emerged as a top Hart Trophy candidate as league MVP.
---
SEE ALSO: Explaining my 2013 NHL awards ballot
---
Oates doesn't want to take any credit for Ovechkin's Maurice "Rocket" Richard Trophy-winning season, but the rookie coach's bold move and his star's acceptance paved the way to an impressive run to the playoffs.
"It says a lot about Adam's ability to convince the player and to communicate properly with him and keep him on his side," general manager George McPhee said. "It says a lot about Alex. You've got a two-time MVP and everything else, and if your top guys aren't coachable, you'd have no chance of having any kind of success. And he bought in."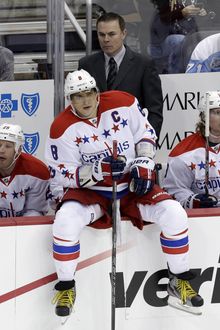 Ovechkin's resurgence came in the form of 23 goals and 13 assists in the Caps' final 23 games as they went 17-4-2.
---
SEE ALSO: HARRIS: A day with the Stanley Cup: What would you do?
---
Ovechkin being a goal-a-game scorer is something he and Oates expected in mid-March, even as the rest of the league was wondering if he'd ever return to his form from several years ago.
"I look at it like he gets a breakaway every game," Oates said March 15. "That's 80."
It clicked, and McPhee could see why it hadn't been there before Oates arrived.
"It had gotten stale on the left side, it had gotten a little bit too predictable," McPhee said. "[Ovechkin] came into this league just a handful for any team, any player, to try and play against. Teams started making adjustments to play him over the years."
Oates told McPhee in interviewing for the head coaching vacancy that he wanted to move Ovechkin to right wing. "It was a big part of choosing Adam," McPhee said.
Oates could show examples like what he helped do for Ilya Kovalchuk with the New Jersey Devils and for Martin St. Louis with the Tampa Bay Lightning. McPhee didn't question the idea because the Devils assistant had the data and video to back it up.
Oates believed Ovechkin did a great job playing his "off side" at left wing. Leading the league in goals twice and points once in his first seven NHL seasons wasn't bad.
When his captain and highest-paid player questioned skating on the right wing in January, Oates went back to his "security blanket" for the Caps' fourth game, Jan. 25 at New Jersey.
"Like I said to him all along, 'It's going to be your call, eventually,'" Oates recalled. "I wanted to keep testing the water, but it's going to be his call."