Gun rights groups have singled out President Obama for failing to prosecute gun crimes, but the drop in cases filed actually began a decade ago under the Bush administration.
Analysts said the decade long drop underscores the key ingredient in gun prosecutions — a willingness to make them a priority.
Prosecutions dipped at the beginning of the Clinton administration but by 1998 had begun to rise again, tripling between then and 2004, when the federal government filed more than 11,000 cases. Since then, however, prosecutions have steadily fallen again, dipping below 8,000 prosecutions a year over the last three years.
---
SEE ALSO: MILLER: Second Amendment crumbling as gun control victories spread
---
Now, in the wake of last year's shooting spree that claimed the lives of 20 schoolchildren and six adults at Sandy Hook Elementary, all sides in the gun debate say they want to see the laws on the books enforced. But the experience of the last 10 years suggests that's easier said than done.
"Presidents and administrations — their priorities are based partly in their ideology and their policy interests, and to a certain extent by the issues of the day," said John Hudak, a fellow at the Brookings Institution who studies gun policy.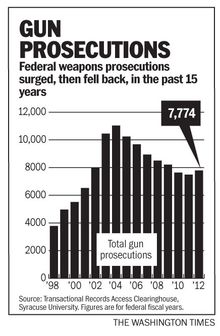 Looking at trends over the last quarter century, two emerge: First, there were two annual peaks in gun prosecutions, both of them under Republican presidents, in 1992 and 2004. Second, even though prosecutions have dropped in recent years, the yearly number of gun cases is still much higher now than in the pre-9/11 era, according to the Transactional Records Access Clearinghouse (TRAC) at Syracuse University, which tracks the numbers.
---
SPECIAL COVERAGE: Second Amendment and Gun Control
---
What's tougher to explain is exactly why prosecutions had a several-year spike at the end of the Clinton administration and the beginning of President George W. Bush's tenure.
Mr. Hudak said the 1999 Columbine school shooting may have spurred an increase in prosecutions, and so could the spate of terrorist attacks in 1998, 2000 and, finally, the Sept. 11 attacks on New York and Washington.
And David Chipman, a former agent with the Bureau of Alcohol, Tobacco, Firearms and Explosives (ATF), said some of the increase may have been due to a Justice Department program that started in 2001 and targeted gun crimes in localities across the country.
"That kind of commitment put a lot of numbers on the board," said Mr. Chipman, who works with the gun-control group Mayors Against Illegal Guns. "I think it worked as designed, which is to create a deterrent."
The ATF, perhaps unfairly, began to receive criticism after the increase that some of their efforts were duplicative, and officials had to re-prioritize, Mr. Chipman said.
"You can't just prosecute 20,000 cases in one year — there just isn't that infrastructure," he said. "Any kind of looking at the numbers and drawing some sort of conclusion that people are doing more or less — you've got to get beyond that. Because you could be comparing apples and oranges."
Gun prosecutions require both cases to be developed by investigators, and charges to be filed by prosecutors.
The TRAC study's numbers said prosecutors turned down 38 percent of referrals in 2002, while last year they declined 32 percent of referrals.
That puts much of the focus on ATF, the lead agency for developing the cases.