As he weighs whether to allow fracking in New York, Gov. Andrew Cuomo is under intense pressure from the oil and gas industry, Republican lawmakers and long-struggling communities eager to see the drilling technique jump-start the state's economy.
But last week, the governor came under pressure from another source — a fellow Democrat. In a strong endorsement of hydraulic fracturing, former Pennsylvania Gov. Edward G. Rendell urged Mr. Cuomo to "do as I did: Step back and look at the facts. See the bigger picture."
In a piece for the New York Daily News, Mr. Rendell touted the benefits of fracking that he saw firsthand as drilling in the Marcellus Shale helped revive long-depressed towns in the western and northern reaches of Pennsylvania.
---
SPECIAL COVERAGE: Energy and Environment
---
It's just one example of how fracking has earned unusually broad support from across the political spectrum, breaking down partisan barriers in surprising ways.
The hydraulic fracturing process extracts oil and natural gas from deep within shale rock formations by injecting high-pressure mixtures of water, sand or gravel and chemicals.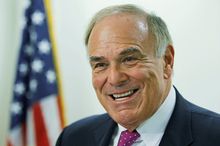 Fracking's loudest and most effective cheerleaders aren't just from inside the industry or from the Republican Party. Colorado Gov. John Hickenlooper, a Democrat, also has become a champion of the process, as have Democratic members of Congress from oil- and gas-producing states. Leading Democrats who have offered kind words for fracking include California Gov. Jerry Brown and Sen. Heidi Heitkamp of North Dakota, whose state is one of the nation's prime beneficiaries of the revolutionary drilling technique.
President Obama's pick to head the Energy Department, Massachusetts Institute of Technology physicist Ernest Moniz, has come under fire from environmental groups in large part for his strong backing of fracking and his argument that natural gas produced by fracking can serve as a "bridge fuel" to a greener future.
"This is actually a very interesting situation for the Democratic Party. There are still Democrats who believe that the party is not just a party of environmentalism and feminism," said Robert Nelson, a public policy professor at the University of Maryland who specializes in environmental issues.
Some Democrats think the party "is actually a party of jobs and good management and sensible environmental improvement," he said.
Colorado clash
Mr. Hickenlooper is one Democrat searching for a balance between environmental protection and energy production, and he has overseen dramatic increases in that production since he became governor. Mr. Hickenlooper also defended fracking in front of Congress and sued at least two Colorado towns that have tried to ban the process through local ordinances.
Last week, Mr. Hickenlooper took to a debate stage at the University of Denver to defend fracking and the state's right to overrule local governments that want to curb the process in their jurisdictions.
Like Mr. Moniz, he also made the case that fracking for natural gas will help the U.S. transition from coal and its heavier carbon footprint.
"Inexpensive natural gas is the best opportunity we have to transition to a greener economy," Mr. Hickenlooper said.
Mr. Rendell and Mr. Hickenlooper, like all other Democrats who back domestic oil and gas development, certainly aren't arguing for lax environmental regulations. Colorado's fracking regulations, for example, are among the toughest in the nation.