A three-minute video of Sarah Merkle's testimony about Maryland's new gun legislation has drawn more than 2 million views on YouTube, won her praise from gun rights advocates across the country and even scored her an interview on national television last week.
But the 15-year-old from Baltimore said she cares more about her message.
"The biggest part of this is that the pro-gun, Second Amendment argument is getting publicity," she said. "I like that it actually got out there, and not just because it's me, but because it's the argument."
---
SPECIAL COVERAGE: Second Amendment and Gun Control
---
Sarah, who has been shooting since she was 8 years old, told The Washington Times on Sunday that she enjoys talking about the issue with people who disagree with her more than people who are on her side.
Such openness can be difficult to find in the wake of the December shooting rampage at a school in Newtown, Conn. The tragedy triggered universal feelings of shock and horror, but revealed widespread differences about the best ways to prevent acts of mass violence.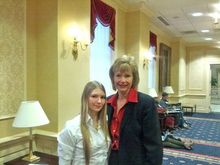 "Ever since I first learned how to shoot, the issue with gun violence around the nation became clear: Guns are not the problem; people are," Sarah testified last month in Annapolis. "Purging our society of violence and murder cannot be done through gun control legislation. By signing this legislation, you are not signing away gun violence, but instead liberating American citizens of our constitutional rights. You are not eliminating guns from society, but eliminating our ability to protect our lives, liberty and pursuits of happiness."
Just more than a week after she spoke March 25, the Maryland General Assembly signed off on the legislation to ban military-style, semi-automatic weapons as well as magazines that hold more than 10 rounds of ammunition. The law, one of the toughest in any state, also will require fingerprinting for new handgun purchases.
The bill strikes "a balance between protecting the safety of law enforcement and our children, and respecting the traditions of hunters and law-abiding citizens to purchase handguns for self-protection," said Gov. Martin O'Malley, a Democrat.
Sarah said such laws passed and proposed since December are knee-jerk responses to what happened at Sandy Hook Elementary School, where 20 children and six adults were killed.
"The first thing that hits a lot of people is a natural, emotional human response," she said. "The first thing that they think of is you can't shoot somebody if you don't have a gun. You want to be given any sort of power that you have to say that you did something to fix the problem. But that's just not the right way to go about it."
Sarah, the secretary of the Maryland Rifle Club, said she was worried that Maryland's new law will prevent her from honing her skills in Bridgeville, Del., where a 1,000-yard shooting range has been added. She said the usual targets are 200 to 600 yards away.
The law prohibits guns designated "assault weapons" from being transported into Maryland, but Sarah's Bushmaster is just for sport.
"I think it's a lot of fun; it's a great pastime," she said. "Shooting really is a sport."
She said the response to her testimony has been overwhelmingly positive and that the comments of people on the other side are usually more interesting than of those who agree.
"There are some pretty harsh comments," she said. "A lot of people will just end up cussing me out."