ANALYSIS/OPINION:
Wilson Suzuki? Kurt Ramos? Kurtson Ramsuki? Just who is catching for the Nationals these days?
For the time being, a different guy every night. Tuesday night, as the Nats opened a homestand against the Chicago White Sox, it was Wilson Ramos. Wednesday night, it will be Kurt Suzuki. Faced with a choice between two No. 1 catchers, Nats manager Davey Johnson made an unusual call: Let's use both.
"I wish the rest of the lineup was working as well as the catchers are," Johnson quipped before Tuesday's game. "Maybe I should start alternating them, too."
It's early, very early, but the unusual arrangement does seem to be working very well. Eventually, Johnson said, he'll start going with "the hot hand," which may not be an easy choice, either, if both stay hot.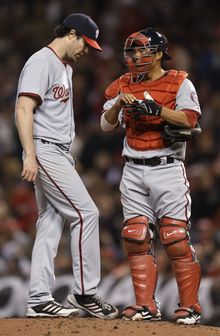 It really isn't anything major, no reinvention of the wheel. They're not going to write a book about the change that altered the way people approach baseball (maybe just a newspaper column). But it is a little thing that shows Johnson, at 70 and in what he says will be his final year as the Nationals' manager, isn't stuck on old ideas. He's willing to try different things if he gets the idea it will work.
The situation would never have arisen if Ramos hadn't suffered a major knee injury May 12 in Cincinnati. Heck, Suzuki probably wouldn't be here if Ramos hadn't been injured.
After being acquired from Oakland in August, Suzuki did a strong job on offense and an excellent job learning the Nats' pitching staff and calling games. Ramos reported for spring training in great shape, his knee held up.
Just like that, Johnson had two No. 1 catchers. So he kept it that way. He didn't want to overtax Ramos' knee too early and with a capable option around, why not use both?
Johnson said he couldn't recall using co-catchers anywhere else.
"I don't remember when I've had catching this good anywhere, especially this deep," Johnson said. "They're both doing very well."
For the distant future, it seems obvious Ramos is the top candidate. Only 25, he was one of the top catching prospects in baseball when the Nats acquired him from the Minnesota organization at the trade deadline in 2010. He hit 15 home runs in 113 games in 2011. At 6 feet, 230 pounds, he provides a big, strong target.
Suzuki is probably ahead in the defensive game. He takes great pride in his preparation. Starter Ross Detwiler said the second time he threw to Suzuki last season, "He knew me perfectly back there."
He isn't as big as Ramos, checking in at 5-11 and 205 pounds. He's also no slouch on offense. Ramos hit two home runs Saturday in Cincinnati. Suzuki hit one and added two doubles Sunday. Ramos went into Tuesday's game with four hits in nine at-bats. Suzuki had three in nine at-bats.
They're interchangeable, right into the No. 8 hole in the order.