Pat Peake couldn't bring himself to watch. Seventeen years after breaking his right heel bone on an icing touch-up, the ex-Washington Capitals center couldn't handle seeing the same thing happen to Carolina Hurricanes defenseman Joni Pitkanen.
"It was just disgusting, and I'm sure it was a meaningless play," Peake said.
Pitkanen's injury last week against the Caps reignited the debate about whether the NHL should change the 76-year-old icing rule. General managers have voted to approve hybrid icing — racing to the faceoff dots instead of the puck — as one way to prevent injuries, but it's hard to find a consensus on the best way to handle the situation.
"It's the players' decision. What they say is best for the game," said Peake who was forced to retire after the 1997-98 season at age 24. "Every single year you have two, three, four, five guys, broken femur, separated shoulder, whatever it may be, with a stupid rule. Can you show me five scoring chances? Is somebody's career worth one scoring chance?"
The NHL Players' Association favors keeping the current rule or switching to automatic no-touch icing, which is used in international play. Even after witnessing Pitkanen's gruesome injury, several Caps defensemen are against making a change.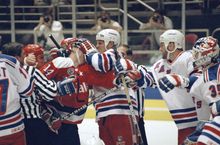 "I kind of like it the way it is right now, but I haven't had an injury from that, so I might be on the other side if I was Pitkanen," Karl Alzner said. "It makes sense why they would do it, but I don't really want to change."
Part of the problem is that hybrid icing is more complicated than just getting to the puck. Players would race to the faceoff dots in the defensive zone, and if the defenseman gets there first the play would be dead.
"Racing to the faceoff dot? So whoever crosses the faceoff dot first? I've never heard of that one," defenseman John Erskine said. "I'm in between with switching it. I'm for it if they do, but I don't like the race to the dots."
Many NHL players don't know about hybrid icing because they have no experience with it. Steve Oleksy played with it during the American Hockey League this season and said of hybrid icing: "I [bleeping] hate it. You can quote that."
His main issue, judging from half a season with the Hershey Bears that included conversations with linesmen, is that it's too much of a judgment call for officials and another split-second decision for players.
"As a defenseman, you're going back in a pretty vulnerable position when you're not sure if it's going to be icing," Oleksy said. "You've got to try to make a play on it, but you're trying to listen for the refs, too, so there's a lot going on and it all happens fast."
The AHL ended its hybrid icing experiment when the NHL season began in January because president David Andrews didn't want players shuttling back and forth between the leagues to have to think about what rule was in place. Washington GM George McPhee would like to observe a full year's worth of hybrid icing at the AHL level; he did not vote in favor of implementing it because he hadn't seen enough.
"I sure didn't like what I saw the other night [with Pitkanen], and I'd be more inclined to talk about hybrid if we can tweak it a little bit," McPhee said. "Maybe the decision to blow the whistle comes before they get to the faceoff dots. Maybe it has to happen a little bit before that, because I don't think it completely eliminates some of the accidents."
Veteran defenseman Tom Poti played with automatic, no-touch icing at Boston University. He and other teammates would rather have that than hybrid icing.
"Maybe twice a game an icing is negated by a forward skating in to protect the puck. It's not worth it," Poti said. "Probably 99 out of 100 times there's never a problem, but when there is a problem, it's a major problem. A guy breaks his heel bone or a guy breaks his leg or it's something major. I don't think it's going to hurt the game if you go to no-touch icing. … It's not going to take away from the game at all."